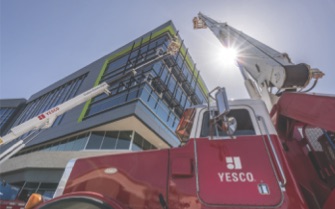 Strong ties and an ability to adapt help YESCO grow as a provider of custom signs and other display system solutions. By Eric Slack
Since 1920, YESCO's goal has been to provide customers with the highest-quality signs and services. Although its industry has changed extensively over time, YESCO has never wavered in its effort to live up to that commitment.
"This is a very family oriented company," Vice President of Supply Chain Management Brad Studdard says. "We now have about 100 locations, and franchises make up about half of our footprint."
Era of Transformation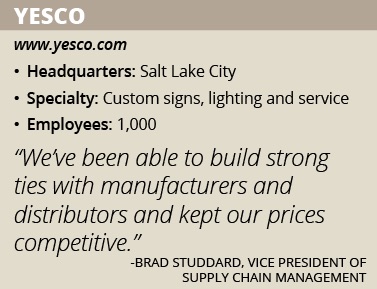 YESCO produces custom signs, lighting and other display systems for a wide array of customers. The company designs, manufactures, installs and maintains identification packages best suited for its customers' needs, no matter what the size of a customer's business. It has built a team of skilled technicians that keeps signs and lighting functioning at peak levels, and it is always on the lookout to be sure its products and services are performing as expected.
In his role, Studdard oversees everything from qualifying vendors and purchasing to shipping, receiving and assisting partners and manufacturers with new product development. Additionally, YESCO has been working on rolling out many new franchise locations over the last few years.
"It is quite a challenge to supply the entire U.S. and Canada," Studdard says. "As we bring on new vendors, we work with our corporate network and our franchises, which are all east of Denver, Colorado and Canada. We are very diverse as far as our signage, lighting and service offerings are concerned. We work in niche markets with some vendors, and we also buy from larger manufacturers. YESCO is getting into more construction work, too, and it is a challenge to provide equal opportunity for all manufacturers and suppliers with all of our locations, especially the more remote locations. Fortunately, we've been able to build strong ties with manufacturers and distributors and kept our prices competitive."
When YESCO examines its vendor footprint, the company looks for longevity and support in addition to quality and price. The company isn't focused on simply finding a small percentage of savings. It wants partners with staying power and consistency.
"We have many partners we worked with through the recession, and we have come out of that stronger than we were," Studdard says. "Vendors played a big part in that, so we are in it for the long haul with them. Our supplier base has grown along with the number of products as we've gotten more into lighting and sign service. We have worked with newer partners and built business with existing partners to help us design custom products. We've had products made all over the world to help us get what we need."
Key Steps
Keeping up with industry and company changes is a constant undertaking for YESCO. The advancements and cost reductions in LEDs have changed the signage and lighting world. Many businesses that would not have installed LEDs a few years ago are now making LED investments, and there are many manufacturers in the space.
"We partner with the stable companies that will be around for many years," Studdard says. "Working with manufacturers with a strong name and history helps reduce risks. We've been around for many years, and we want our customers to be around for many years. We don't sell for single transactions. We want to sell, service and maintain relationships over time."
YESCO's franchise network has helped foster growth in its service business. While some companies just build signs, YESCO's operations are more ambitious. In fact, the company sees some of its biggest growth opportunities stemming from service offerings tied to its franchise network.
"It is a challenge to support such a large network. Many sign distributors are not nationwide, and some niche products require parts that are not readily available everywhere," Studdard says. "We have to work closely with several distributors and partners to support our network."
Next year, YESCO will invest in its first new ERP system in decades. It will also continue to invest heavily in state-of-the-art equipment to make sure it is on the cutting-edge of its industry. Its biggest ongoing investment is in personnel, which YESCO sees as its biggest asset and the key to quality performance.
"What we do is very technical and highly complex," Studdard says. "The manufacturing and services involved in the sign and lighting industry are complicated. Ongoing training and education is critical."
Over the next few years, YESCO will strive to ensure more consistency in products and pricing. The whole industry has seen explosive change thanks to LEDs. YESCO's ability to build a reliable and dependable product base of offerings for end-users is critical. As the company works to support its growing network, it must be able to ensure consistent pricing no matter the size of the market.
"Having ventured into Canada, we've seen that the conversion rate between dollars has been a big challenge," Studdard says. "But we are focused on supporting our network so we can keep prices consistent. We are looking to develop new relationships with suppliers and manufacturers to ensure consistent support for our partners. This is a great all-around company, and we are very focused on continuing to succeed and build our franchise network."