CraftWorks Restaurants & Breweries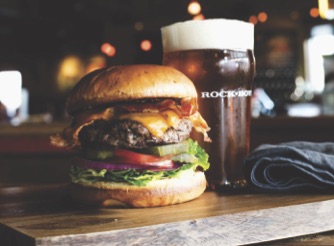 Supply chain efficiencies help CraftWorks Restaurants & Breweries lead the craft beer-focused casual-dining segment. By Eric Slack
Based in dual headquarters in Chattanooga, Tenn., and Broomfield, Colo., CraftWorks Restaurants & Breweries is the leading operator and franchisor of brewery and craft beer-focused casual-dining restaurants in the country. A multi-brand restaurant operator, the company's current footprint includes nearly 200 restaurants, brewery restaurants and entertainment venues.
"We currently have 197 restaurants, 192 in the U.S. and five international," Vice President of Strategic Supply and Initiatives Scott Adams says. "We have opened eight restaurants this year, including two in Taiwan, and will open two more additional locations before the end of the year."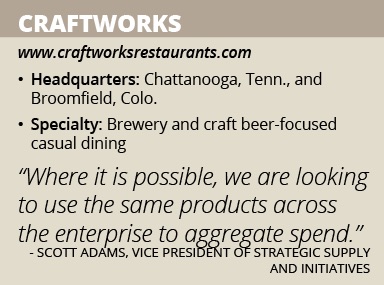 Diverse Family
Although CraftWorks formed only six years ago, its legacy extends much further. The company came together when Rock Bottom Restaurants and Gordon Biersch Brewery Restaurant Group Inc. merged. Each of those brands has histories that stretch back for more than 20 years. Today, Rock Bottom and Gordon Biersch are two of the three core brands in CraftWorks' portfolio, with Old Chicago Pizza and Taproom Restaurants being the third core brand. Old Chicago's legacy dates back to 1976.
Along with the three primary concepts in the CraftWorks family are a number of specialty and regional brands. These include Big River Grille, Bluewater Grille, A1A Ale Works, Ragtime Tavern Seafood & Grill, Seven Bridges Grille & Brewery, ChopHouse & Brewery, Walnut Brewery, and Sing Sing. All of its brewery restaurants have won multiple awards for their beers.
Throughout its entire footprint, CraftWorks employs 14,000 people and is the largest operator of brewery restaurants with more than 70 locations serving beer brewed on-site. It has a presence in urban centers and rural locations.
"Essentially, we look at the business in two facets," Adams says. "Old Chicago is focused on being the craft beer authority and offering the best fresh and local craft beers. The Brewery Group is focused on brewing beer in their restaurants daily."
The common themes across all concepts and locations are high-quality food, craft beer and exceptional service. In each market it serves, CraftWorks strives to be the leader in craft beer-focused casual dining.
Links in the Chain
Helping CraftWorks succeed is a supply chain team focused on safely delivering the right product, to the right place, at the right time, at the lowest sustainable cost. The team looks for opportunities to rationalize SKUs across all of the brands when possible, while also ensuring that it is helping each brand to maintain its signature elements.
"We've worked on developing strong plans across our food categories," Adams says. "When we can, we look to utilize the same ingredients across the enterprise to aggregate spend."
To help each brand maintain and enhance its identity, the company has a leader for each. For specialty brands, internal executive chefs help drive the culinary concepts. The three major brands have their own corporate culinary teams, and a Senior Director of Culinary oversees the entire footprint.
One important supply chain initiative has been an intentional focus on adopting a technological supply chain solution to enhance the supply team's capabilities. CraftWorks partnered with ArrowStream in July of this year to gain more insight into its supply chain. ArrowStream is a supply chain innovator that combines proven supply chain expertise with data science and analytics to change the way supply chains perform. The company is launching ArrowStream's OnDemand Platform so it can have the best possible visibility into its multiple distribution channels.
"We are currently in the implementation stage, and OnDemand will allow us to take our team to the next level," Adams says. "OnDemand provides transparency into our entire inventory, ensuring we always have the right amount of product on-hand. Whether we are planning and preparing for a promotion or managing seasonality, OnDemand makes it easy for us to set priorities and eliminate unforeseen outcomes in our supply chain."
Supplier segmentation has been another focal area for CraftWorks. In the past, the company managed suppliers equally, but this proved not to be the most efficient approach. The result was the creation of segmented three tier system for suppliers: Transactional, Preferred and Strategic.
"The tier determines how we interact with vendors," Adams says. "Transactional vendors may include many repeat purchases, low complexity in products, and can include rationalizing SKUs. Preferred relationships have stronger price agreements, flexible contracts, and short- and mid-term reviews. Strategic partnerships include product innovation, mutual trust and openness, shared risk and reward, executive-level involvement, ample commitment, and regular reviews and conversations. Our fiscal spend with our suppliers is identified during placement in the segments, but it is typically not the deciding factor for a supplier's tier classification."
CraftWorks' supply chain team is focused on helping the company grow by ensuring food safety and securing the lowest sustainable cost. It will continue to devise strong category plans and appropriately categorize vendor relationships to help the company evolve.
"Our plan is to continue to examine our current spending in each category to ensure our restaurants and organization will win," Adams says. "Enabling CraftWorks to reach their long-term plans of growth and success."