Effective and agile sourcing systems and processes helped Maurice Sporting Goods become a leader in sporting goods. By Eric Slack
Founded in 1923, Maurice Sporting Goods has become the largest sporting goods distributor in North America. Today, the company sells to hundreds of retailers, and its products are used by millions of consumers in the United States, Canada and beyond.
Maurice Sporting Goods specializes in outdoor sporting goods, as well as the sports license category and the outdoor gift category. The company is known for its ability to create comprehensive, customized solutions that drive superior retail sales performance.
"Our suite of value-added services is unique in the industry, and retailers and vendors alike look to us for expertise in diverse areas," Vice President of Supply Chain Management Paul Baris says.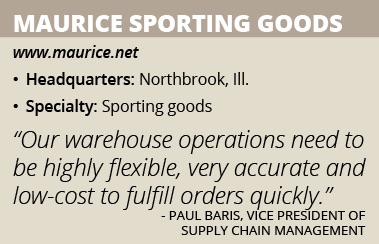 Full Service
Maurice Sporting Goods is a true omnichannel provider of goods and services. The company ships e-commerce orders, store-direct orders, ship-to/mark-for orders through a retailer's cross-dock center, and multiple truckloads for a retailer to stock in its distribution center. To do this, the company accommodates a large variety of packaging, labeling and compliance requirements.
"We carry nearly 100,000 SKUs across our distribution network," Baris says. "Our warehouse operations need to be highly flexible, very accurate and low-cost."
Domestic and overseas factory partners provides the company with flexibility in product development. It can quickly help licensors, retailers and vendor partners seize opportunities to create new, high-quality products.
"We also produce branded product lines that combine innovation, quality and value," Baris says.
Maurice Sporting Goods is focused on managing cost while maintaining quality and compliance standards. This requires collaboration between the company and its factories to achieve the most competitive product cost without cutting corners on materials or quality steps.
"It is important to have a sourcing strategy that allows for changes in the market," Baris says. "Our strategy must be fast, flexible and allow us to explore many logistical and geographic options."
The company strongly believes in mutually beneficial partnerships. It works with overseas factories to ensure they are compliant with social, security and safety standards, providing on-site expertise and consulting. For its new warehouse management system and distribution center start-up, Maurice selected companies that share a similar long-term view.
Handling Change
As customers' needs evolve with changes in the market, Maurice evolves strategies accordingly. Much of its business is based on being an industry leader in providing comprehensive, customized support for retailers, so it must stay on the forefront of technological changes. This is why it was one of the first companies to equip its field sales force with handheld devices for product ordering and auditing, and why it is engaged in a large-scale overhaul of its warehouse management system and launched a new facility in McDonough, Ga.
"Our customers need greater speed and accuracy, as well as the ability to support growing e-commerce business," Baris says. "These changes will help us support new initiatives."
"Almost every one of our traditional brick and mortar customers now has an omni-channel strategy," adds CTO and owner Michael Olshansky. "Maurice has made investments since the mid 2000s to support these initiatives."
Among the company's primary strategies is to make significant investments in people. It has brought in associates at all levels with extensive experience in their functional areas. In supply chain and IT, it has either brought in or promoted from within to ensure it could overhaul its warehouse operations. The company is also working on forecasting and replenishment.
Establishing an office in Asia was another key move. The company knows its customers want products manufactured to specified social, safety and security standards, so it established its own factory compliance standards. The company's office in Asia also manages factory finished goods inspections, capacity planning, sourcing, production management, shipping and consolidation. "This is done in real time and helps us maintain a more efficient communication and information flow with our factories," Baris says.
To prepare for the future, Maurice Sporting Goods has been staying on top of current trends and challenges in its industry. Because of e-commerce growth, it has invested in picking small orders quickly and in a cost-effective manner.
Additionally, the company is staying on top of developments such as industry consolidation on the supplier and retailer sides as well as major shifts in the retail landscape.
"That's the biggest challenge and biggest priority for us ahead," Baris says. "We need to redouble our commitment to our partners and use our advantage in technology and supply chain capability to drive our mutual success."