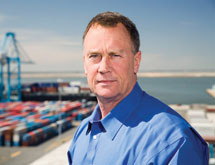 When looking at a description of AV Logistics LLC, it appears to be a typical drayage company handling domestic and international cargo. But according to CEO and President Art Zimmerly, AV Logistics offers far more than trucking services.
"We like to think of ourselves as an information management company that provides nationwide drayage for all types of companies in the intermodal business," he said. For imports, exports, and rail intermodal services, AV Logistics also provides ramp-to-ramp, ramp-to-door, and door-to-door intermodal services throughout the US and Canada.
The company was founded in 2000 primarily with the retail industry in mind and focusing on container/shipment management services, which is a slight difference from other trucking companies. Zimmerly said when AV Logistics created its system, it set its sights on event management technology and more efficiently managing the total process for its customers.
Using the import process as an example, Zimmerly explained that AV Logistics provides information to its customers such as a continually updated ETA, ETA to availability, availability to out-gate at the port, availability in-gate at the retail location, and the empty date. From there, the company also provides information from the empty date to the out-gate date at the retail location back to the date the truck makes it to the port.
"Our system allows us to provide a variety of services to our customers, but the biggest one is the ability to manage demurrage and per-diem" he said. "It's always been a big expense to the retail industry, and we pretty much take that risk out of the import/export process."
Seeing is believing
The development of AV Logistics event management technology came early on in the company's history when one of its largest customers came to Zimmerly with an $8 million problem with per-diem. Although the client knew where the problem was, it couldn't see it, and therefore it couldn't manage it.
In response, AV Logistics developed a system to cut out the cost. "The demurrage is driven by the actual date the cargo comes off a vessel (minus any free time) to the date it leaves the port, in most cases," Zimmerly said. "If it's not off the port in the allotted time, our clients pay a fine of anywhere from $50 to $100 per box per day."
Once the cargo goes out the gate, it is then put on a per-diem clock. Which shipper AV Logistics' clients are dealing with determines how many free days they get during this per-diem. Once that free time runs out, the charge then escalates to at least $44 a day. "To do this, we had to create a system that captured those events," Zimmerly said.
Now, AV Logistics gives a daily report to each of its retail clients outlining which boxes are at the port or at the rail ramp and how much free time remains prior to going into demurrage. It also gives the out-gate, which provides customers with another report on how much free time they have with every container in their distribution centers, and a countdown on their remaining free time.
Within 12 months, AV Logistics had cut the customer's $8 million problem down to $400,000. And even today, the company's continued focus on putting technology into its processes differentiates it from others in the drayage industry. "To a certain degree, trucking companies still aren't accustomed to dealing with this," Zimmerly said.
Pushing through
Another of AV Logistics' competitive advantages is its relationship with its sister trucking companies, C&K Trucking and Skyline Transportation, which allows it to speed up the process. Each operates independently, but AV Logistics manage the information and uses the trucks to pick up and deliver its freight.
In total, AV Logistics operates more than 600 trucks. It has terminals in Chicago, Ill.; Elizabeth, NJ; Baltimore, Md.; Winchester and Norfolk, Va.; Charleston, SC; Savannah and Atlanta, Ga.; Jacksonville, Fla.; Memphis, Tenn.; and Dallas, Texas. Partner carriers service all of its other locations across the US.
"In the real world, trucking companies wait for the steamship line to call and say the box is ready, and then the steamship line will call the customers and let them know the appointment date," said Zimmerly. "We don't wait for the process to pull through; we push it."
AV Logistics calls the steamship lines and makes sure the box is mounted and is available and then gets its trucks under it right away to get it out the gate and to the customer's facility. By managing the whole process, said Zimmerly, "we are pushing the product to the our customers."
But having its own trucking company does present its fair share of challenges. For one, the industry is experiencing a driver shortage for myriad reasons, including the economic downturn, pressure from shippers to cut rates, and drivers that got out of the business unable to get back in because of the cost of newer tractor-trailers.
In addition, driver pay and safety increased safety requirement as a result of CSA will require companies like AV Logistics to work closely with its customers, ports, and ramps to improve efficiencies. "The customers will need to work a lot closer with the trucking industry to make sure we can become as efficient as we can in several areas," said Zimmerly.
"One is in turn times for our equipment, and the other is trying to spread out freight delivery to a full workweek rather than trying to take all of your freight at once, which is the way the nature of this business tends to run," he said.
Growing out
But industry issues aside, AV Logistics continues to see tremendous growth. Last year it acquired a major trucking company—its second—and has continued to see its revenues grow. Zimmerly projects the company will see between 12% and 13% increases in revenue and volumes in 2011 as well.
The company's customers are also increasing their shipments; Many its retail customers are projecting between 8% and 12% growth in 2011, and AV Logistics volumes are already up 20% year to date over last year.
With the company's continued investment in upgrading its fleet to Smart Way Transport program requirements, Zimmerly expects the company's growth to go beyond what he's already anticipating. "We're betting on the customer supporting our efforts because their looking for companies that have green trucks," said Zimmerly. "We're selling the fact that we have the highest
possible Smart Way rating available to a intermodal drayage carrier."