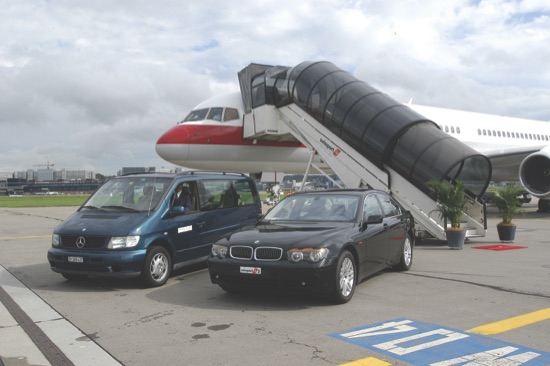 Building its procurement business from nothing gives Swissport an opportunity to implement new practices and tools. By Tim O'Connor
Making a fundamental change at a large corporation is often a lumbering process. A vision is the starting point, detailed strategies must be developed, pitches made and approvals granted by multiple layers of oversight. Change is a fragile endeavor and leadership can mothball the whole process at a moment's notice.
But for Swissport, a leading provider of ground and cargo services for the aviation industry, it was because of its leadership that change could happen. When Marianna Zangrillo joined the company's procurement team in 2015, procurement had no place at the decision making table.
"The previous CEO [Per Utnegaard] and the executive in charge of group services [Luzius Wirth] realized there was an untapped opportunity," Zangrillo says. And there was an awareness that a strong figure with adequate experience was needed to drive a change. "When I was recruited I was told I was going to transform procurement," she explains. "When I started, I realized that there was nothing to transform, and it was all to be built from nothing.
"For me, it was a great opportunity to define everything from scratch, and it was hard to believe that in 2015 a global organization without a professional procurement organization still existed," she continues. "You usually have the challenge to change things, while our focus here has been to change people's mindset." She describes the procurement transformation as a three-to-five-year journey that is only finishing the first leg. "We are moving toward an organization where only procurement people do procurement, but any corporate activities is planned and executed leveraging any internal knowledge across departments," Zangrillo adds.
The number and variety of products now under Zangrillo's domain is staggering. Swissport has operations at more than 280 airports worldwide where it serves 230 million passengers and handles more than 4.1 million tons of cargo annually. The procurement team is responsible for obtaining nearly every item the company uses, from cargo-handling equipment to furniture, office supplies, professional services, luggage tags and even food and beverages for airport lounges. Procurement also works on projects to support the commercial team and M&A activities.
"We need talents to improve every one of those business areas and therefore work closely with our HR departments to get the right people onboard," Zangrillo says. "Recent studies show that 70 percent of the current procurement resources won't be able to do what procurement will need to do as the world moves forward."
Time of Transition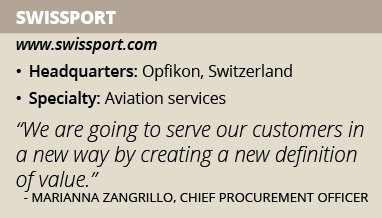 Zangrillo's hiring coincided with several sweeping changes at Swissport. In 2015, HNA Group, China's fourth-largest airline, announced its intention to purchase Swissport for $2.81 billion and the acquisition was finalized in 2016.
The leadership at the top of the company changed as well. Eric Born was chosen as Swissport's new CEO in 2015 and immediately began to preach profitability and customer focus. To become more profitable, Swissport needed to increase its customer's focus and review its cost base. Procurement was an area where the company could make an immediate impact.
Previously, Swissport's operations were divided among geographic regions with each division reporting directly to the CEO. In May 2016,under the new CEO, the company changed its structure so that regions report to the COO and the regional divisions are no longer represented on the executive level. Also, a chief commercial officer role was created in the executive team. That emphasized the company's increased focus on standardization and efficiency, as much as on customer service," Zangrillo says.
In January 2016, Swissport elevated Zangrillo from vice president of global supply chain management to chief procurement officer and built a new procurement organization underneath her. Ten procurement personnel were hired to staff the global department, and Swissport's regional procurement groups remained in place but a solid reporting to Zangrillo was established. "Before everything was done locally," Zangrillo says. "Now procurement is centralized."
Centralizing procurement enabled the global team to leverage global spend opportunities, drive new contracting standards and establish a center of procurement excellence to better support the regions. The global team selected and deployed also a spend management system that provides full visibility into the company's purchases. "We can see the full external spend in any form," Zangrillo explains.
Through the newly acquired data analytics system, Swissport can see how much it is spending globally sorted by individual suppliers or regions. Zangrillo says this data is used to determine the potential of leveraging Swissport's spend with each supplier to create better prices.
Having achieved full spend transparency, Swissport then focused on its internal buying strategies. The company developed a procurement policy that regulates the maximum each region can spend without involvement from the global procurement department. Now, any purchase that exceeds that threshold – from new cargo moving equipment to IT service agreements – must go through a procurement-driven competitive bidding process. That means fair treatment of suppliers and reduction of suppliers selection through relationships, among the other things. So doing, Swissport put a tighter hold on costs by putting those decisions in the hands of a professional procurement organization.
But even as Swissport implements tools to reduce unnecessary spending, it's making the purchasing process easier for its employees. The global procurement team is in the process of selecting procure-to-pay and e-sourcing tools. The e-sourcing system will reduce manual work for the procurement employees, and also allow suppliers to bid on the request. The e-procurement tool will enable employees to select an item from an internal database of approved products and services, such as a equipment, laptops, temporary labor or office furniture, and then make a requisition. Once approved, acquired and correctly delivered, the e-procurement tool will automatically match the order with the invoice to verify the purchase without the need for manual review.
Once those tools are implemented, Zangrillo says the procurement process will more closely resemble how consumers order products online. "The idea is that procurement is moving in the direction of private users," she says. "If we want to recruit the best talents we need to go digital, otherwise the digital natives won't work for us in a few years."
Valuing Support
The results have been promising so far. After only one year into Swissport's three-year procurement journey, the global procurement team has already made a measurable impact. "We have been able to address approximately 20 percent of our external spend, and deliver an average 15 percent net improvement on that spend, on top of covering it with very solid contracts," Zangrillo says.
Zangrillo credits the company's new leadership and HNA for recognizing the role procurement plays in profitability. Under HNA's guidance, Swissport has become a large organization that behaves as a collection of smaller businesses, creating an entrepreneurial culture with strong support from management. "This is a very good place to be for people who want to build and perform," she says.
In about a year, Swissport's procurement has transformed from a back office organization to a business organization. The role of Zangrillo's team has been expanding from simply obtaining whatever products and services were requested to becoming an active voice in decisions, guiding the company to alternative options and challenging the requirements of projects to ensure whatever is being ordered is truly needed. "We think of procurement as integrated into the business organization," Zangrillo says. "We are going to support many important decisions using the talents of a still too often underestimated department."