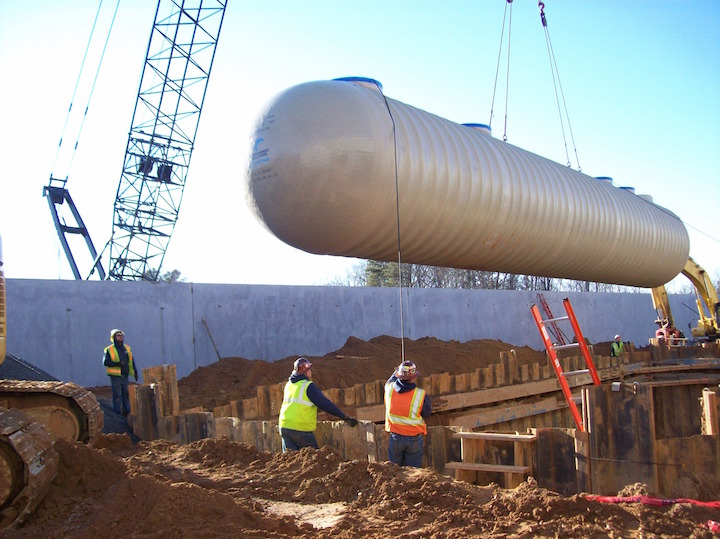 Recent investments and acquisitions greatly enhanced Jones & Frank's ability to serve its fuel-handling customers.
By Jim Harris
Jones & Frank's customers know they can call on the company to quickly respond when they have a problem.
"There are hundreds of examples every single week where a service station, operating platform or dispensing system is down and we immediately respond and restore the site to full operation," says Keith Shadrick, vice president of supply chain for the Raleigh, N.C.-based company. "Our goal is to have a site up and running on the first service call. Our technicians are highly skilled and carry an extensive inventory on their service vehicles."
In addition to servicing fuel and fluid-handling systems and equipment, Jones & Frank also provides customers with products from more than 200 manufacturers on a timely basis. "We have a core competency in distribution. We stock a wide breadth of inventory that is readily available in all local markets within our footprint," Shadrick says. "We not only have strength in distribution, but also offer a full suite of complimentary services that is unmatched in the industry."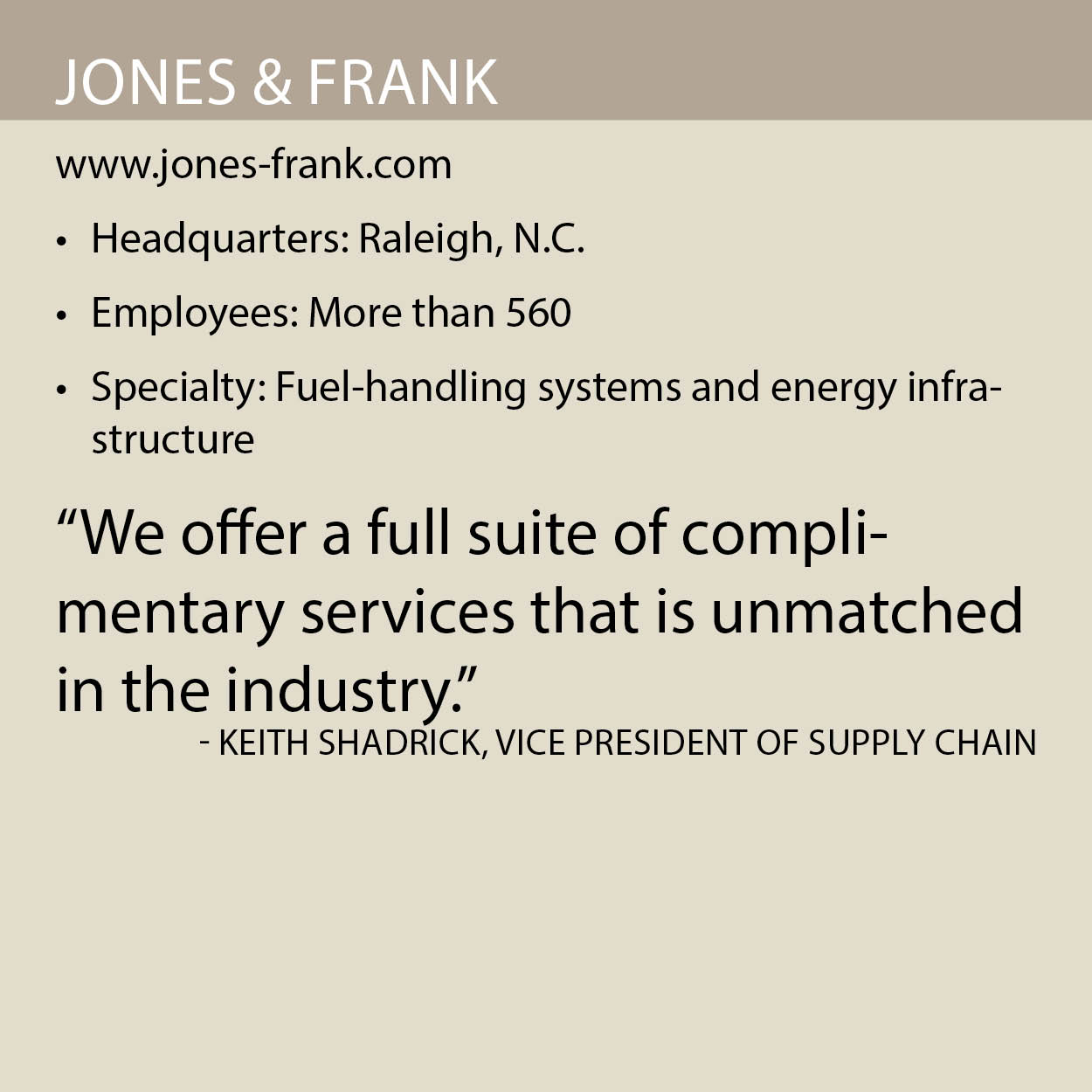 Jones & Frank also offers project management, consulting, construction management, training and financial services. The company serves the retail fueling station sector as well as commercial customers with large operations including vehicle fleets, emergency power fuel systems and boiler fuel systems. Jones & Frank operates 18 branch offices and four distribution centers and has service technicians located throughout the country.
Shadrick credits the company's growth and success to the efforts of its technical and other staff. "I'm proud of our team's willingness to embrace change and find creative and innovative solutions that others in this industry aren't even attempting," he says.
The Right Investments
Jones & Frank's distribution capabilities were greatly enhanced in 2016 when the company acquired ANS Distributing, a leading national petroleum equipment provider serving many of North America's largest fuel marketers. "Jones & Frank has long been recognized as a leader in service, construction and solutions; now, we've acquired a best-in-class leader in distribution," Shadrick says. "The merging of these two companies allows us to bring capabilities and expertise to the market no one else has."
The acquisition added three distribution centers to Jones & Frank's holdings. "We now have a very sophisticated and highly automated capability of replenishing our service technicians and keeping them fully stocked and operational 24/7," he adds. "Our commitment to best-in-class service, as well as the depth and breadth of our available inventory, makes us better and faster than anyone else."
All of the company's distribution centers are equipped with state-of-the-art radio frequency (RF) and barcode technology, which enables Jones & Frank to deliver products with the highest degrees of speed and precision.
"From a supply chain perspective, our investments are 100 percent targeted toward the needs of our customers whether that means making sure we have the right inventory or if we can process orders at a moment's notice and provide same-day shipping," Shadrick says. "Technology in our industry is rapidly evolving. I think the best distributors and solution providers are the ones who are aligned with the market leaders in innovation and technology."
Jones & Frank's order processing systems allow the company to receive orders until 4 p.m. to be packed and shipped for next-day delivery. The systems are fully integrated with FedEx and UPS. "With our system combined with RF technology, we are absolutely certain we will get the order right the first time," he adds.
Meeting Needs
Jones & Frank's recent investments have helped the company rise to the challenge of a rapidly automating world. "In the digital world, there are new expectations for what service providers should do," Shadrick says, noting that customers expect electronic tracking, next-day delivery and rapid response times. "We are focusing our supply chain efforts on how we can meet those needs."
The company is partnering with its suppliers to ensure high product availability in local markets. This includes a robust sales & operations planning process and use of state of the art inventory planning and deployment systems. "We forward deploy time sensitive inventory items to our branch locations that our technicians have 24/7 access to, ensuring availability for critical emergencies," he adds.
Jones & Frank strives for seamless integration with its supply base. "If you are providing systems that control the storage and delivery of fuel, you have to make sure your downtime is at a minimum," Shadrick says. "Whenever something goes wrong at a customer's site, we need to be certain we can get them back up and running immediately."