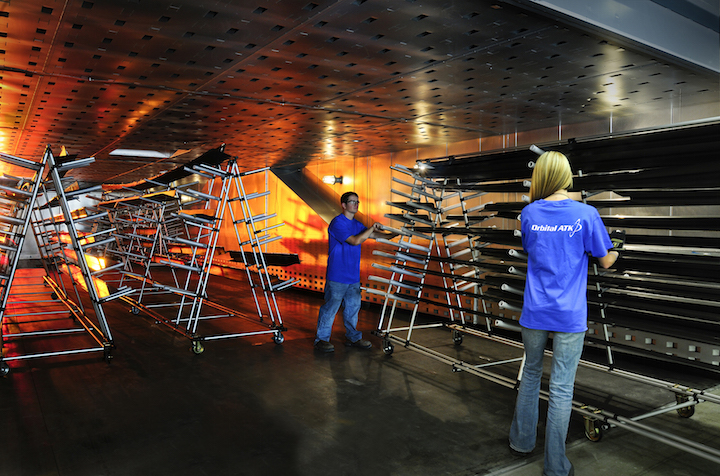 Global aerospace and defense system leader Orbital ATK depends on the efforts of suppliers and other partners.
By Jim Harris
Formed in 2015 after the merger of two companies, Orbital ATK provides high-quality and complex parts assemblies and systems to many of the world's leading manufacturers of aviation and defense equipment.
The Aerospace Structures Division of the new company had historically relied on its vertical integration capabilities to manufacture their products. With an increase in new business, the division has had to look to its suppliers and others for their expertise in manufacturing and supply chain management.
"No company stands alone," Vice President of Operations and Supply Chain Management Patrick Russell says. "We rely on our customers, our suppliers and the education sector/academia to help us improve our overall supply chain."
The Dulles, Va.-headquartered company's aerospace structure division (ASD) operates seven manufacturing facilities in Utah, Mississippi, Ohio, California and Massachusetts. These facilities produce highly engineered, lightweight structures for commercial and military aircraft including the Airbus A350, Boeing 787 and Lockheed Martin F-35 as well as for United Launch Alliance's Delta and Atlas launch vehicles.
The company's core products include wing parts; composite stringers, frames and engine cases; solid rocket cases; missile products, subsystems and defense electronics; weapons systems and satellites.
International Reach
Significant growth in the demand for its products and the addition of several large contracts spurred ASD to look outside of its own operations for more than just raw materials.
"A key component of keeping up with that growth means ensuring we have rate readiness from our suppliers and that we can secure low-cost suppliers to support our pricing strategy," Russell says. "Internally, we are focused on making highly complex automated composite structures. If we are building assemblies that require a simple composite structure, we've found it works better to subcontract those less complex structures to other companies.
"Building amazing and incredibly complex parts is our niche in the marketplace and is what has made us who we are," he adds. "As we grew and won more assembly business, we had to decide the kind of business we are in. We decided that we will focus on making the more complex parts and use our suppliers to provide the less complex parts that will go into our overall assembly."
As a company serving the defense industry, Orbital ATK is required by International Traffic in Arms Regulations to limit the products and services it places overseas. As a result, many of Orbital ATK's parts suppliers are based in the United States.
The quest for reduction of total costs has also driven Orbital ATK to domestic suppliers. "A lot of work in our industry had been outsourced to Malaysia, China or Southeast Asia, but we're seeing increased insourcing to domestic suppliers to support overall lower costs," Russell says. "We're finding that when you look at the total cost – including logistics and infrastructure – domestic suppliers are competitive with the international market."
For the company, a focus on logistics costs is a key part of reducing its overall. To support the company's European customers, which include Airbus and Rolls Royce, it processes freight through a cross-dock location in the Netherlands, operated by third-party logistics (3PL) provider Crane Worldwide Logistics. Orbital ATK ships products to Crane's cross-dock that are then kitted and delivered by Crane. "Our European customers have a need for us to deliver products to them in a short period of time; we target delivery of parts within 24 hours, and our arrangement with Crane Worldwide allows that to happen," Russell says.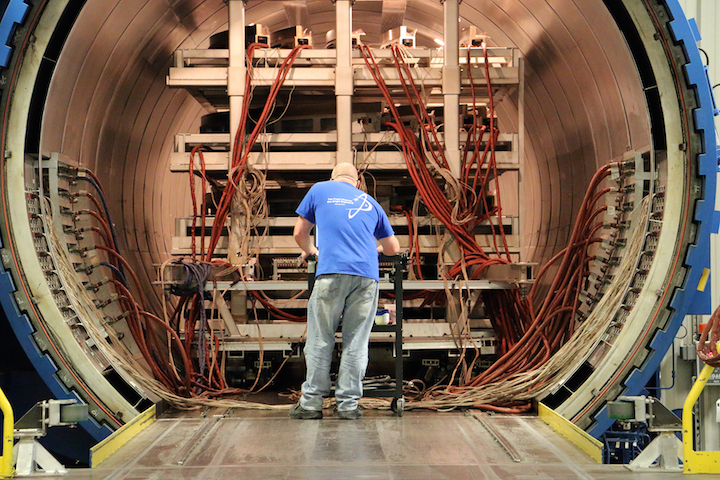 In addition to coordinating the Aerospace Structures Division's logistics to its European customers, Crane also handles most of their other inbound and outbound logistics activities. "This 360-degree view of what shipments are coming in and out of our locations, along with their on-site support, puts them in a unique position to offer us the lowest overall logistics costs," Russell adds.
Orbital ATK has also teamed with the Supply Chain Management program of Weber State University in Ogden, Utah, to help it further reduce its logistics costs to its European customers. The program, led by Dr. Stan Fawcett, has "spent several years analyzing and making recommendations to lower our costs and improve the supply chain processes that support our European customers," Russell says. "This collaboration with both industry and academia gives us an influx of new ideas that we weren't able to generate ourselves."
On the Same Page
Orbital ATK's supply chain and manufacturing teams also closely coordinate their efforts with the company's business development and other operational groups. Meetings between the company and executives from many of its key suppliers also regularly take place. In addition, the company uses its enterprise resource planning system and supplier and customer portals to align its sales and production strategies.
"Communication is one of the things I can't stress enough," Russell says. "If our business development team is looking for business using a manufacturing process that is outside of what we do now, it is vital that we have someone in our supply chain that is able to provide the products we need to support that business."
The company maintains a kanban replenishment system with several of its suppliers including Industrial Supply, a provider of many of the company's non-production items, which it stocks on Orbital ATK's behalf.
Future Leaders
Orbital ATK uses several advanced composite manufacturing techniques in its operations including 3-D additive manufacturing technology. The company is also increasing its use of out-of-autoclave technology. The technology is meant to replace pressurized autoclaves that are currently used to complete the company's products, Russell says.
Manufacturing and supply chain employees receive training not just on operating their manufacturing equipment but also on topics including ethics and maintaining supplier relationships. Employees in leadership positions in the company also have a regular cultural training sessions focusing on positivity.
Orbital ATK believes strongly in mentoring. "One of our most important responsibilities is to train and mentor the rising workforce and future leadership," Russell says. "It is vital that we take the time to meet with them, encourage them and help them achieve the dreams and expectations that they have for themselves."
Russell says Orbital ATK's employees are the company's greatest strength and source of pride. "We support war fighters, space exploration and technology," he says. "We launch satellites and rockets and provide parts that support commercial aerospace. We believe that our work matters to our employees as well as the industry and our consumers.
"Every day, our employees embrace the art of the possible and push the envelope on what can be done. The word `can't' is just not a part of our vocabulary."