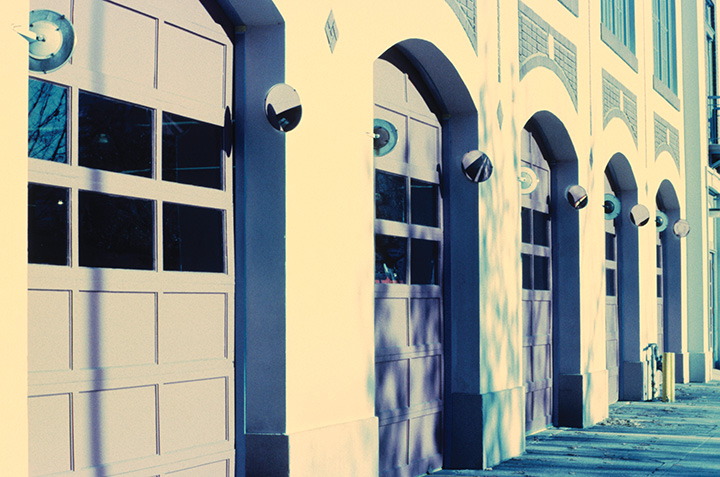 For more than 90 years, Overhead Door Corp. has provided its customers with a quality product, and unmatched customer service and expertise.
C. G. Johnson founded Overhead Door Corp. in 1921 after he invented the upward-lifting garage door. Johnson traveled across the United States with a small prototype of the door mounted on the back of his Model T and promoted the new innovation in a several small towns and at county fairs.
"He was ahead of his time by using marketing and sales tactics such as customer coupons and sales outlet bulletins to communicate the news about this innovative product and create a call-to-action for consumers," the company says. Johnson established a network of distributors and soon his invention of the overhead door gained widespread popularity.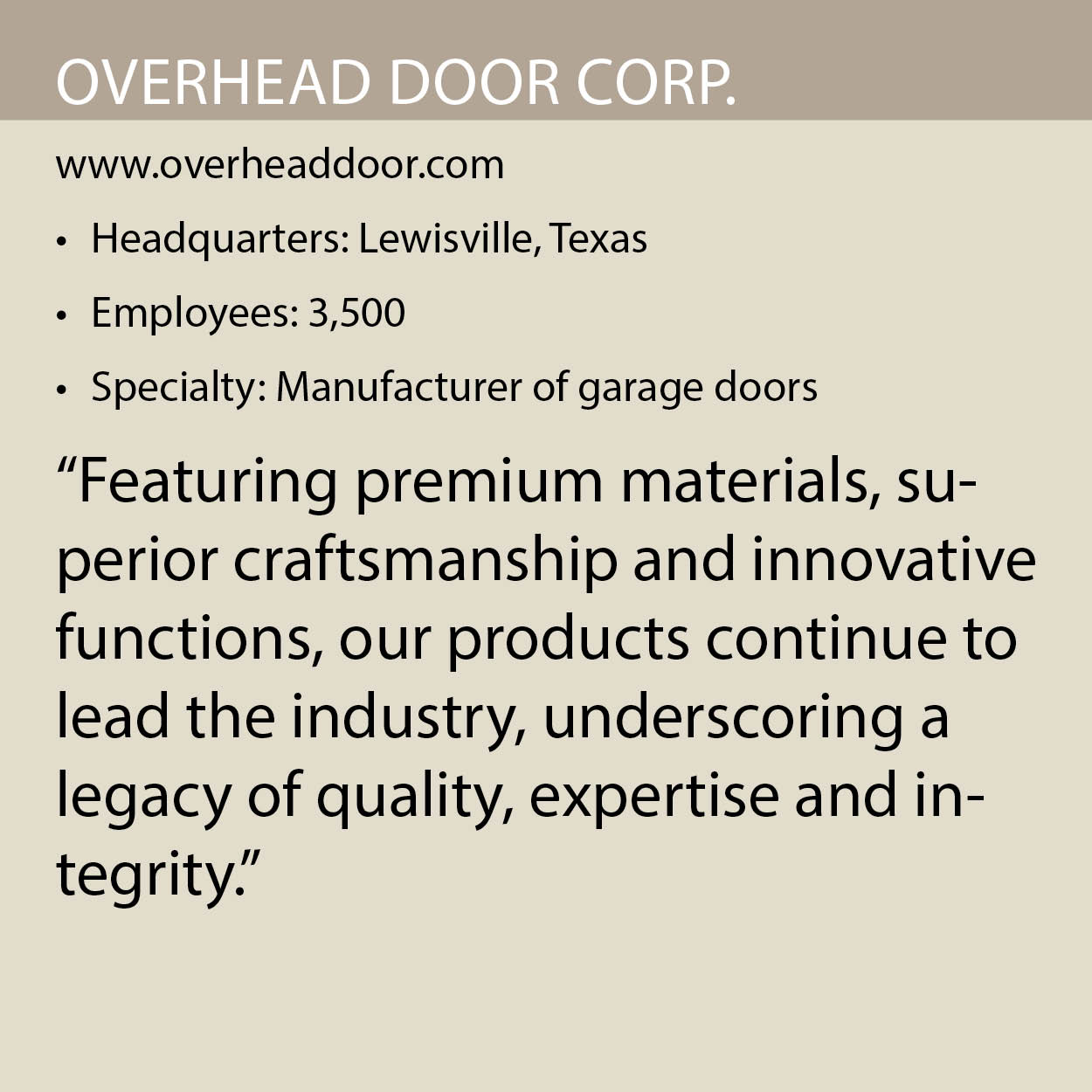 After the upward-lifting garage door started to gain recognition, Johnson then invented the electric garage door opener in 1926. "His inventions created the foundation for C.G. Johnson's well-respected enterprise that would become known as the Overhead Door Corp.," the company says.
For more than 90 years, the Overhead Door brand has stood for professional service, as well as product quality and expertise.
In 1996, Sanwa Holdings Corp. purchased Overhead Door. The Tokyo-based company was founded in 1956 as a shutter manufacturer, but later pioneered the engineering, production, marketing and distribution of steel building materials in Japan. Today, Sanwa Holdings is one of the leading manufacturers of construction products in the Pacific Rim and the combined entity is among the world's leading suppliers of building products.
"Overhead Door and Sanwa Holdings are committed to offering products and services that contribute to the prosperity of society by providing safety, security and convenience," the company says.
Today, Overhead Door is one of the most recognized and respected brands in the garage door industry. With a nationwide network of more than 450 authorized distributors, the company is recognized as a leading manufacturer of integrated door and operator systems for commercial, industrial and residential applications.
Designed To Last
Overhead Door Corp. manufactures garage doors through five divisions: Creative Door Services, Access Solutions Division (ASD), Horton Automatics, Genie and TODCO.
Creative Door Services is based in Alberta, Canada and provides installation, maintenance and services for residential, commercial and industrial markets. ASD manufactures upward-lifting doors and access solutions under Overhead Door and Wayne-Dalton brand names for residential, commercial and industrial applications.
Horton Automatics provides automatic pedestrian entrances and access control solutions for healthcare, retail, transit and other commercial applications. Genie develops, manufactures and distributes electronically controlled access technologies for all three markets. TODCO specializes in upward lifting and swing doors for commercial trucks and trailers.
Residential garage doors from Overhead Door are among the most dependable in the industry, and have also proven to be durable and long lasting, the company notes.
"By choosing a residential garage door from Overhead Door, you are doing more than making an investment," the company says. "You are making us a part of your daily life and relying on us for safety, security and dependable operation. In return, we'll open the door for you — a door to attractive design options and enhanced safety features that complete your home."
Overhead Door offers seven residential door collections. The Modern Aluminum Collection is a contemporary style made with fiberglass and aluminum. Its Signature Carriage Collection combines the classic, swing-open appearance and detailing of carriage house wood for its door offerings.
The Impression Collection includes garage doors that are artfully molded with a wood-grain fiberglass surface that conceals the durable steel construction. Overhead Door's Courtyard Collection offers insulated steel doors that provide a custom wood appearance that are combined with the durability of steel in 18 classic carriage house designs.
Thermacore® is Overhead Door's insulated steel door that features a patented steel-polyurethane-steel sandwich construction. Durafirm offers rugged, thick vinyl-skin doors that provide a break from wood door maintenance and steel door dent and rust concerns. The Traditional Steel Door Collection offers popular steel doors that provide the durability and performance expected from the Overhead Door system.
"Our company boasts a complete selection of performance- and safety-tested commercial and industrial overhead doors, including rolling-steel garage doors," the company says. "We manufacture a wide array of styles to meet your business needs, from insulated and non-insulated doors for internal and external applications to high-performance, sectional-steel and fire-rated doors.
"Engineered for excellence and backed by a dedicated nationwide network of Red Ribbon Distributors, Overhead Door's commercial and industrial doors are the premier choice for durability, serviceability and hassle-free performance," the company continues.
Expert Service
All Overhead Door products automatically include the expertise of Overhead Door Red Ribbon Distributors. The network of more than 450 distributors ensures customers have convenient access to the company's commercial overhead doors and operators, residential garage doors and openers, as well as accessories no matter where they are located.
"This extensive distribution network is unique in our industry, providing a single source for personalized design and application consulting, quick installation, turnkey services and professional maintenance," the company says. "Combined with Overhead Door's innovative product design and manufacturing superiority, our distributors are a proud part of the Overhead Door family, sharing our name, ribbon logo and commitment to excellence."
Overhead Door adds that the company's products are versatile, which sets the company apart from its competitors. "That's one way to describe our products," the company says. "Overhead Door Corporation is a total, one-stop solution that meets your every upward-acting-door need. Featuring premium materials, superior craftsmanship and innovative functions, our products continue to lead the industry, underscoring a legacy of quality, expertise and integrity."
Celebrating A Legacy
In 1921, when Henry Ford was mass-producing automobiles, C. G. Johnson invented the upward lifting garage door and founded Overhead Door Corp. Last year, the company celebrated its 95-year anniversary. Today, the company is keeping the legacy alive with more than 400 distributors in the United States and Canada that proudly display its Red Ribbon logo.
"Of all the American businesses that were founded in 1921, how many had the drive, the discipline and the adaptability to allow it to thrive today?" the company says. "We did, and ninety-five years later we are still living the legacy and standing strong, thanks to the incredible commitment and hard work of our family of ribbon distributors."
Shortly after inventing the upward-lifting garage door, Johnson created another convenient solution for homeowners: The electric garage door opener. These inventions were developed into a business that has evolved and grown over the years, according to the company. Today, Overhead Door is still known for its quality, service and integrity.
"Our Red Ribbon logo represents everything the Overhead Door brand stands for," the company says. "Superior products. Expert service. Excellent distributors. We have to thank our employees and distributors for their hard work and dedication over the past 95 years. We are who we are today because of the legacy that was created in 1921."
Winning Effort
Over the years, Overhead Door Corp. has won numerous awards. Most recently, the Texas-based company won the Women's Choice Award by WomenCertified for America's Most Recommended Garage Door brand and Architectural Products Magazine's 2016 Product Innovation Award, and topped Builder Magazine's 2016 Brand Use Study for the fifth year in a row. Overhead Door was named No. 1 in three categories: Brand Familiarity, Brand Used Most and Quality Rating.
"We know consumers today have more options than ever, and the Builder Magazine's Brand Use Study serves as a professional resource to help make the decision on which garage door manufacturer to consider," the company says. "We're committed to our partnerships with homebuilders and consumers."
In addition, Overhead Door revamped the look and feel of its website in 2016. The new design features eye-catching images of garage doors and its responsive design allows for easy navigation of product information from mobile devices, the company says.
The new website also features an improved search engine, new Architect's Corner and updated photography. According to Overhead Door, these upgrades will make it easy for those on the move to utilize the company's resources no matter where they may be.
"Overheaddoor.com will now feature unique landing pages for each distributor and an updated Architect's Corner, a resource that allows commercial and residential architects to select multiple documents for a product and download them into one, which allows users to consolidate files for easy emailing," the company explains.