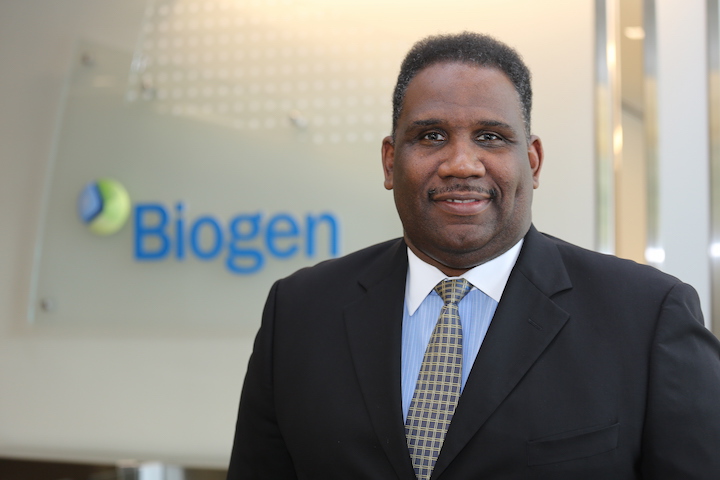 Biogen is using big data analytics to find suppliers and analyze their bid information to deliver a new level of savings.
By Alan Dorich
When you are combatting neurological, autoimmune and rare diseases, you cannot fall behind in the market and let game-changing solutions slip through the cracks. Cambridge, Mass.-based Biogen provides advanced treatment options through its products, as well as within its supply chain.
The company, which started operations in 1978, develops, markets and manufactures disease therapies, Vice President and Chief Procurement Officer Walter Charles III says. For example, "We have the industry's most robust product portfolio for ailments like multiple sclerosis," he says.
Biogen also addresses spinal muscular atrophy (SMA) in pediatric and adult patients through Spinraza, a new ground-breaking therapy that was launched earlier this year. "It's now being launched in a number of countries around the world," he says.
"It's one of the only products of its kind in the market," Charles says, noting that the product recently helped a family that was afraid their second child had SMA. "We're in the business of trying to help families cope with disease."
The company also has Alzheimer's disease on its radar. "[We see that] as the next game-changing therapy," Charles says. "Alzheimer's is a progressive neurological disease where no treatment options exist for patients today."
Extensive Expertise
Charles joined Biogen in 2015. A graduate of the Columbia Business School, the Stevens Institute of Technology and the United States Merchant Marine Academy, "I've worked for a couple of decades in big pharma/biotech," he says. His experience includes work with Johnson & Johnson, Bristol-Myers Squibb Co. and Merck & Co. Inc.
He also was the chief procurement officer at Kellogg's and Kraft Foods Group Inc. where he led and materially contributed to supply chain productivity improvements. "I've been in a bunch of different sectors all with the same procurement problems," Charles says, adding that he has shared his expertise through speaking engagements as far away as China and Australia.
Better Tools
When Biogen hired Walter, the company wanted him to materially ramp up Procurement's savings similar to the results he registered as the leader at both Kellogg's and Kraft. "On day one when I joined Biogen, the first thing I did was diagnose where we were in our people, processes and technologies in a procurement function," he recalls.
Charles used his own staff and proprietary methods during this process. "We found that while we were doing some stuff really well and we still had a lot of opportunities," he recalls. Charles then suggested that Biogen implement a "Constraint-Less Bidding Methodology" and a 60/60 framework to improve early engagement on large spend opportunities.
He also wanted to add a big data analytics engine for bid data adopt a cleansheeting framework to better understand its cost drivers and strive to consultatively improve the quality of decision-making of Biogen's business. No one had heard of "Constraint-Less Bidding" before, Charles says.
"It is a term I coined to consider rethinking every procurement process as if we did not have the constraints of spreadsheet-based analytics," he explains. "If you could source more of your spend, more granularly; understand the cost drivers; [and] include as many suppliers as you wanted in every bid while radically collapsing the analytics-cycle times to get to actionable insights, this is the both the promise and aspiration of what is possible with big data analytics in the practice of procurement."
These included his 60/60 platform approach for sourcing products. Often, he says, companies accept sub-optimal deals from suppliers because they have to fulfill last-minute requests from internal requestors/clients. "The 60/60 approach says that if you ask the requestor to take 60 seconds fill out a webform — 60 days in advance of needing a contract — Procurement will be able to save more money by competitively evaluating every major purchase for the business," he says. "Typically, the number of transactions requiring this process change is only between five to nine percent."
Charles explains, "The 60/60 platform approach allows the business to make better decisions, based on insights gleaned from the competition among suppliers. When a Biogen employee needs help making a purchase, he or she will use the platform and fill out a form telling details such as whom they are, how much they have to spend and what they are trying to buy. This allows for procurement teams to dynamically prioritize their resources to focus on the largest spend opportunities first, in contrast to the current practice of responding the loudest requestor first."
It is critical that the process of filling out the form is quick, so the goal is for is it to take only 60 seconds. Afterward, it is directed "to the right procurement person that understands the needs and nuances of the purchase," Charles says.
Thanks to the extra time and the limited change management required by the business, Biogen can evaluate and consider more competing suppliers that can give the company better deals. "All of the companies that I've worked for have [had] this Late Procurement Engagement problem," he says. "Most procurement professionals have simply accepted this problem not knowing that they can simply pivot to an emerging raft of tools and a constraint-less bidding framework to mitigate it."
Growing the Pool
Biogen uses big data analytics to help it expand the pool of suppliers it evaluates. Biogen is using breakthrough new supplier discovery engines designed to make finding suppliers easier for upcoming bids. "The process of casting a wide net of suppliers is a term that I call 'funnel-less bidding,'" Charles says. "Today, most procurement professionals purposefully limit the number of suppliers they include in their bids, often eliminating from greater than 100 supplier options to the low single digits.
"Big Data Analytics says if I no longer had the constraint of spreadsheet analytics, I could consider the entire population of suppliers and down-select only with real facts from actual RFP submissions," Charles continues. " But the company is looking for more than just a good deal.
"I'm purposely looking for disruptors and suppliers that are reinventing the landscape that we're buying in," he explains. "It's a meaningful pivot from the historical [approach], which is that I would want to get fewer suppliers."
This allows Biogen to find the "Uber-like players" that are set to revolutionize the industry, Charles says. He asserts that keeping Biogen's finger on the pulse of innovation is critical.
The supplier landscape is radically changing and these changes must drive a corresponding shift in long-standing practices of procurement, Charles says. In 2001, he notes, the five largest publicly traded companies included such non-tech firms as GE, Exxon, Citi and Walmart. Last year, all five were innovative technology companies, including Apple Inc., Alphabet, Amazon.com Inc. and Facebook.
"The era of digital, machine-learning, big data analytics and artificial intelligence is going to disrupt how the practice of procurement is conducted," he says. "Additionally, the average tenure of S&P 500 companies was 90 years in 1935 and only 15 years in 2016; 52 percent of Fortune 500 companies have gone bankrupt, been acquired or ceased to exist since 2000 due to digital disruption; and greater than 855 artificial intelligence companies have emerged according to Venture Scanner."
Additionally the pace of change is accelerating, Charles says. "Consider the following: the amount of time it took for breakthrough technologies to get to 50 million users is rapidly declining," he states. For example, he says, the telephone took 75 years, the radio took 38 years, television took 13 years, the World Wide Web took four years, Facebook took three-and-a-half years, the Apple iPod took 3 years, Angry Birds took 35 days and PokemonGo took approximately two days.
"The old practice of choosing a supplier and sticking with them for a long period of time will be disrupted in light of these accelerating dynamics," Charles says.
"The goal of procurement should be to purposefully find those disruptors," he says, noting that his 45-Second Analytics method helps find those game changers in less time than platforms such as Excel.