American Blue Ribbon Holdings LLC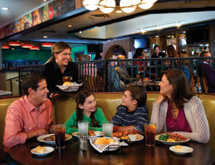 At American Blue Ribbon Holdings (ABRH) LLC, there are 13 people who manage the company's $500 million supply chain, according to Chief Supply Chain Officer Mark Hampton. The foodservice company has more than 690 restaurants in 43 states, and Hampton admits "you either have to be laser-focused or throw a battalion of people at it" to manage such a large operation successfully, but that is exactly what ABRH is doing.
"We rely on agility, adaptability and alignment in managing our supply chain," he says. "This helps us to produce goods and services at a competitive advantage over our competitors."
Hampton explains that agility allows ABRH to add brands to its system without too much trouble, adaptability enables the company to be flexible when changes come about and alignment means its marketing, R&D and culinary groups are delivering on its quality assurance and competitive advantages. He notes these characteristics help ABRH manage the supply chain of its foodservice concepts, of which there are six at this time:
O'Charley's
Ninety Nine
Max & Erma's
Village Inn
Bakers Square Restaurant and Bakery
Legendary Baking
"The common denominator of our diverse offerings is they have stood the test of time," Hampton says. "Through this they have all developed rich histories and deep roots within the communities they serve, which are spread across the entire United States."
Surgical Focus
The supply chain of ABRH is managed in three segments: quality assurance with its manufacturing partners, strategic sourcing and distribution operations. Hampton describes the company's manufacturers as "snowflakes," because they are all different, but ABRH must find the ones that are the best fit for its brands. The company evaluates larger players and lesser-known suppliers to see who has the best competitive advantages, but it also looks at manufacturers' quality, financials and samples of their food.
"Quality assurance is something we monitor internally and externally all the time," he says. "We ensure the manufacturers continue to meet our expectations, but we also supervise our own line runs. Quality assurance is very integral to the overall scheme of the supply chain department."
The next segment is strategic sourcing, and that is really where the "agility, adaptability and alignment" come into play, Hampton says. It involves logistics management, but also sourcing the best goods for its operation. Hampton notes that a good example of ABRH's adaptability is the new O'Charley's that it unveiled at the end of 2012.
"We worked tirelessly to update this classic brand, bringing it into the 21st century with a modern, open and inviting spirit that remains true to the people, southern hospitality and ideals that have made O'Charley's an American institution," he says. "It includes a more expansive floor plan, open seating, new brand mark, updated menu, updated décor and more. It is important for us to focus on bringing our concepts and brands forward while staying true to what has made them all so successful over many years."
With distribution operations, ABRH has one director of distribution operations and two distribution operations managers to ensure each brand and each location has everything it needs to operate well. These people are key to the smooth running of the operation, especially when there are menu changes or other issues. Hampton stresses that this requires a lot of communication.
"This work requires a surgical level of focus so nothing is lost in the dust," he says. "They have to make sure every actionable item is followed through to completion. We primarily use name-brand master distributors throughout the United States."
In its ongoing improvement efforts, ABRH has been working to determine how to use various information systems to become more efficient. The company added O'Charley's Inc. in early 2012, which brought the O'Charley's and Ninety Nine brands into the fold. As a result, ABRH is managing more than 1,200 invoices each day and 96,000 lines of data a week, Hampton says.
"We partnered with ArrowStream, which has helped us aggregate our products, regardless of the distributor," he says. "It's been a good system to help us manage our product and help us to match our product with the contracts."
Six Core Values
With the addition of O'Charley's and Ninety Nine to the ABRH umbrella, the company moved its offices from Denver to Nashville, Tenn., and has been dealing with some other adjustments from integrating new brands into the operation. Hampton explains six values help it remain on track:
Accountability for results
Relentless improvement
Passion to serve
Integrity in all actions
Respect for each individual
Embrace change
"These six values give us a competitive advantage," he says. "We are extremely highly aligned as a group, and our vision, values and culture keep us grounded. By focusing on those six things with our people on an ongoing basis and exhibiting these values to our guests, I feel we can be very successful."
Hampton says he is proud of the work of his group of 13, and he stresses that the supply chain department will remain "very lean" because it is key to the group's agility. With the move to Nashville, Hampton is working with mostly new people, so he will continue training and educating his team so they fully understand the ABHR culture and the way it works.
In the next 14 to 18 months, Hampton wants everyone to become a certified purchasing manager, and he will continue with the training, education and development of his people, because this is what brings enterprise value, he says.
"We excel in our ability to take an issue and deal with it," Hampton says. "It shows in how we as a team take a look at the issue, diagnose it and turn it around. We are focused on what it takes to deliver the best customer experience. We have a formula, drive it to completion and see the positive results." ­­­