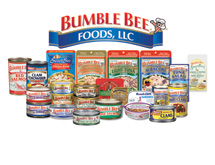 Most supply chains move products along from production facility to production facility, making for a relatively controlled environment. For Bumble Bee Foods, however, its global supply chain operations take it to the middle of the ocean and back again. Senior Vice President of Supply Chain Timothy Fischer explains that Bumble Bee Foods fishes every ocean on Earth for its shelf-stable seafood products, so dealing with those sometimes-chaotic environments and a live product means its supply chain and logistics operations have to be nearly flawless.
With sales of more than $1 billion, Bumble Bee Foods is North America's largest shelf-stable seafood company. The company's line of canned and pouched tuna, salmon, sardines, shrimp and other specialty seafood products can be found on U.S. and Canadian store shelves from coast to coast. The privately owned company has been in business since 1899. Fischer is responsible for managing its day-to-day supply chain operations, which include logistics, transportation, warehousing, planning and customer service.
Bumble Bee Foods' supply chain begins on the fishing boats, which bring in fish from all oceans. The company has canning facilities in California and packing facilities in Georgia, and Fischer says Bumble Bee Foods also partners with co-packing facilities around the world to handle specialty seafood like shrimp and crab. The company also relies on third-party logistics firms to handle its warehousing needs.
Fast Response
Fischer says that despite the challenges that come along with processing live seafood on a global scale, Bumble Bee Foods is more than a match for the task thanks to its robust and highly efficient supply chain operations. "Our business is a bit different because we are a two-step process," Fischer explains, referring to the company's fishing operations and its processing and distribution.
Bumble Bee Foods practices excellence at every point on the supply chain, according to Fischer. "I think our inventory management is superior, and we keep our inventory accuracy at an extremely high level," he says, adding that the company also is able to manage its costs structures effectively.
The company's supply chain and logistics skills give it an advantage when it comes to at-risk situations, and few recent situations fit that description better than Hurricane Sandy. Because its products are shelf-stable, there was an even greater demand for Bumble Bee Foods' products in the days leading up to and following the storm, meaning the company had to execute as close to perfection as possible to ensure product made it to shelves. That wasn't easy as the storm pounded vital infrastructure throughout the Northeast.
"The Northeast is our primary market," Fischer says. "Our distribution center in New Jersey suffered like everybody else; power went out and roads were hard to get through."
To compensate for the challenges created by the storm, Bumble Bee Foods started planning as soon as forecasts made clear that Hurricane Sandy would hit the East Coast. Fischer says the company met twice a day with all its service partners to coordinate their efforts. In many cases, he says, Bumble Bee Foods avoided shipping products to distribution centers or warehouses and moved them directly to customers. At its New Jersey distribution center, the company set up temporary generators and doubled its efforts during daylight hours.
Future Technology
The company's efforts during Hurricane Sandy helped it overcome the storm, but Bumble Bee Foods also continues to find ways to improve its operations under normal circumstances. Fischer says that as transportation and fuel costs continue to rise, the company has to be able to keep its expenses under control. "Cost is a major factor, and we're constantly looking at ways to put more on a truck," he says.
As customers order smaller amounts and more custom pallets to keep their own expenses down, Bumble Bee Foods is working with other producers to maximize the amount of product they can get onto trucks. Fischer says that because the company's product is typically heavier than other products, it is looking for producers of lighter products to help share capacity and eliminate unused space in trucks.
Technology also has a role to play in Bumble Bee Foods' improvement efforts. Fischer says the company recently implemented a transportation management system and soon will install a global management system. With these platforms in place, it will have total visibility along every point in the supply chain from the ocean to customers' shelves. Fischer says Bumble Bee Foods also hopes to implement a software platform that will give it increased communication with customers.
"We have to get closer to our customers; I think that's going to be a main issue," Fischer says. ­­­