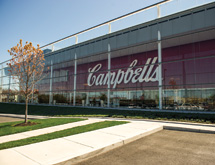 Campbell Soup Co. – with 143 years of history and a presence in more than 100 countries – certainly fits the definition of a long-lived, established business, but the changes the company is making in its supply chain reject the notion that it's slow to adapt. Instead, Campbell is demonstrating its ability to be nimble and quick to adapt to fluctuations in the market.
Supply chain for Campbell is "end-to-end," explains Dave Biegger, vice president for North American supply chain. "The scope of supply chain's involvement ranges from procurement, including agriculture, and extends to the manufacturing, engineering, logistics, customer service, and supply and demand planning areas," he says.
Six years ago, Campbell's supply chain set out to transform itself. "We began a journey to make a significant difference for the company by developing a new vision and establishing new strategies that would enable change," Biegger says.
The first steps in that journey consisted of analyzing and reorganizing the leadership roles within the company and engaging the organization at all levels in the change process. "We improved the leadership team [by] promoting from within and by bringing in some people from outside of Campbell to give us a wider range of experiences, which created a very strong leadership team," Biegger explains.
To achieve the kind of breakthrough results that Campbell wanted its supply chain to deliver, the company had to evolve its strategy. "One of our goals is to support growth and innovation, while delivering flat or declining cost," Biegger says. "Another goal is to improve agility and responsiveness to become more demand-driven. So we have integrated the ideas of upfront design, cost and increased agility, enabling us to drive flat to declining total cost while improving service."
Operational Excellence
After its initial analysis, the company began to focus on operational excellence, with the goal of improving efficiencies, predictability, the quality of operations and the quality and consistency of products. "We have a detailed program across all our plants that allows us to link our plant resources together to share best practices and work as a team, instead of having everybody trying to develop their own solutions," Biegger says. Campbell's focus included three other key elements.
Network optimization is a key part of Campbell's approach. This  involved designing its entire network to make the right product in the right place to respond to customers' demands as quickly as possible. "Optimizing our network includes adding, moving and removing production capabilities across the network to achieve the right balance and mix," Biegger explains.
Advanced planning systems and sales planning and operations are two major efforts Campbell is focusing on to improve its demand visibility and supply chain optimization. "We're making a major investment in advanced planning systems to get better visibility to demand data, strengthen our analytical capabilities and optimize our planning efforts," Biegger says.
The final piece of the puzzle for Biegger and his team is to establish an operating strategy that will enable these changes. "If we made all the other changes, but we didn't change the way we operate, we wouldn't be able to take full advantage of those new capabilities," Biegger says.
Focused on Simplicity
As efficiencies and predictability improved, the focus moved to making the supply chain process more nimble and flexible through simplification. "The immediate need was internal," Biegger says. "Over time, complexity had increased such that we had too much waste and extra cost built into our system, and it made it very difficult for us to execute our journey of renovation and rapid innovation. To meet our customers' needs more effectively and in a timely way, we had to simplify."
Campbell drove down cost and waste to be quicker to market with innovations, and it looked at production processes. "We want to focus on simplification across multiple areas," Biegger says. "This involved simplifying how we make our products and simplifying our production plants and equipment and how our plants are designed."
This major effort even drilled down to the ingredients Campbell used. "In order to simplify our products' recipes, rather than try to work across all the boundaries that exist within the organization, we created a self-contained team that we called the Common Platform Team," Biegger explains. This cross-functional team was "looking to reduce complexity by reducing the number of flavors [in the soups] to the few that really matter to our consumers," he says. "That process would not only simplify our supply chain, but also drive down our cost."
The ultimate goal for Biegger is to drive cost down and improve service with lower inventories and better speed to market. "The approach at Campbell is to increase our agility and flexibility, helping us drive lower inventory levels, lower costs, improved responsiveness and better customer service," he says.
"What is most powerful about our approach is that all our strategies are very much interdependent versus independent activities," Biegger notes. "Importantly, the approach is being driven by an engaged organization – so from senior leaders all the way to the plant floor, everyone has a stake in this." ­­­