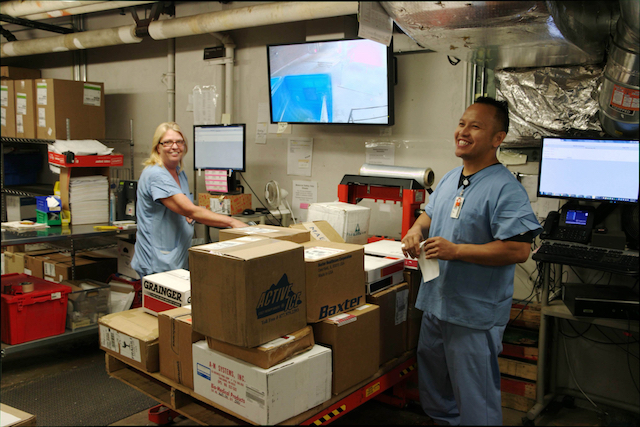 Fairview Health Services is focused on integrating its supply chain operations for greater efficiency.
By Kat Zeman
LeAnn Born is facing a number of interesting challenges. As vice president of supply chain at Minneapolis-based Fairview Health Services, Born is leading the integration of two supply chain departments following the merger with St. Paul-based HealthEast, a leading healthcare provider in the Twin Cities East Metro area.
The merger, which created one of the largest health systems in Minnesota last year, is designed to offer patients of both healthcare providers easier access to specialists, additional clinic options and a broader range of services. Born's challenge will be to integrate supply chain operations between the two companies. This includes their enterprise resource planning (ERP) systems, purchasing processes and distributor choices.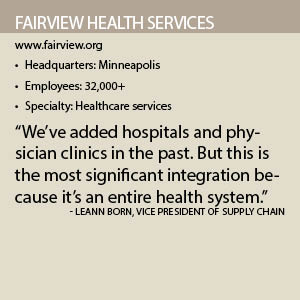 "When companies come together, they frequently look to supply chain to drive some of the early efficiencies," Born says. "In our situation, it's complicated because we have many differences in how we run our business."
Fairview operated the University of Minnesota Medical Center in Minneapolis plus six community hospitals and roughly 100 primary and specialty clinics. It had a growing pharmacy business as well as senior services, home care and a health plan with roughly 25,000 employees.
HealthEast employed about 7,500 people and operated three acute care hospitals: St. John's Hospital in Maplewood, St. Joseph's Hospital in St. Paul and Woodwinds Health Campus in Woodbury. It also operated one long-term acute care hospital and 14 clinics. Together, under the Fairview umbrella, the healthcare provider now has more than 32,000 employees and 2,400 affiliated providers. Both organizations consider their merger a win-win.
"It should be really exciting in a few years," Born says. "It's a benefit for the community in terms of high-quality care. For us, in the long-term, there will be significant operational efficiencies and reduced overhead costs once we're utilizing the same infrastructure to operate our supply chain."
Facing Challenges
Born, who has been with Fairview for about eight years, has been involved in other acquisitions. But this one has some unique challenges. "We've acquired hospitals and physician clinics in the past," she says. "But this is the most significant because it's an entire health system."
One challenge will be to get both healthcare providers on the same ERP system to standardize their ordering, receiving, payables, inventory management and other supply chain operations. "Currently, we have different business processes that are embedded in the different ERPs," Born says.
They will continue operating under two different ERP systems for a few more years until a new ERP system is selected. "It's a significant financial investment to select a new platform," Born adds. "But we look forward to the future when we will have an entirely new system in a cloud environment that will allow us to operate as one department."
Another process that will require standardizing is purchasing. Each provider is a member of a different group purchasing organization (GPO). Fairview belongs to Premier Inc., while HealthEast is a member of Vizient Inc.
"A GPO allows us to leverage our own buying power and aggregate with other health systems across the country to enter into contracts with suppliers," Born says. "Right now, our contracts come from different sources. We will eventually standardize to one GPO but we're not there yet. This will probably take place within a year."
The two healthcare providers will also plan to align distributor relationships. "At this point, we buy our commodity type items like nursing supplies from two different distributors," she says. "We need to narrow it down to one. This will be an area of focus for us within the next year."
Giving Back
Fairview Health Services is an award-winning, nonprofit, integrated health system that prides itself on exceptional healthcare across a spectrum of services. In 2010, Thomson Reuters named Fairview one of the top 10 healthcare systems in the United States.
Fairview is also deeply involved with the communities it serves. Its Fairview Foundation raises funds to support Fairview's mission to heal, discover and educate for longer and healthier lives. It was established to provide innovative care, create programs and vital services and expand access to care for Fairview patients.
Fairview's community benefit programs and activities are a result of priorities identified through its Community Health Needs Assessment process. Its programs focus on investing in community health partnerships, educational programs and uncompensated care as well as efforts to increase access to services, educate future health professionals and conduct research.
Fairview believes in embracing innovation and new thinking to drive a healthier future through healing, discovery and education.