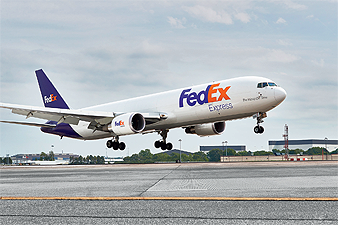 First wave of shipments
FedEx Express, a subsidiary of FedEx Corp. and the world's largest express transportation company, revealed in December that operations are in motion to transport its first shipments of Covid-19 vaccines.
---
Following the Food and Drug Administration's approval of Emergency Use Authorization for the Pfizer-BioNTech Covid-19 vaccine, FedEx Express will begin transport of the vaccine using its FedEx Priority Overnight® service supported by FedEx Priority Alert® advanced monitoring. After months of preparation and close planning with Pfizer, other healthcare companies, and federal and state officials, the first Covid-19 vaccines will move to dosing centers in the United States. Vaccine distribution will be balanced among major cargo carriers, and FedEx is working closely with healthcare customers to prepare for additional vaccine shipments and transportation of critical vaccine-related supplies.
"This is among the most important work in the history of our company, and we're honored to be a part of the effort to help end this pandemic," said Raj Subramaniam, president and chief operating officer, FedEx Corp. "I am immensely proud of our dedicated team members who continue to go above and beyond to help ensure the safe movement of these critical Covid-19 vaccines, especially during our busiest holiday shipping season to date. This is who we are and what we do at FedEx."
"Time-definite express transportation of critical shipments is exactly what our FedEx Express network was built to do when it launched in 1973," said Richard W. Smith, regional president of the Americas and executive vice president of global support, FedEx Express. "Almost five decades later, we are proving true to our founding mission by delivering critical Covid-19 vaccines."