How Troy overcomes challenges to support independent businesses and bring people together
Troy and stop us
In 1986, a collective of independent businesses joined together as a buying group to bolster a position from which they could negotiate better terms from their supply chain. Over the last four decades, the company, Troy UK Ltd (Troy), has expanded from its base in core-engineering tools to a wider range of maintenance, repair and operations products, cutting, power and hand tools, PPE, hygiene and janitorial equipment, and fasteners. All of the above are provided by some of the biggest brands in the industry, such as Stanley, Makita, DeWalt and Bosch. Besides its extensive range of products, the company also offers vendor managed inventory solutions.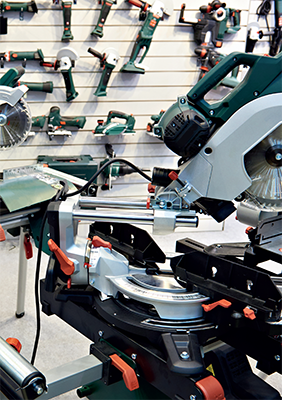 Troy champions proactivity, over reactivity, in terms of evolving market trends. This approach is facilitated by its shareholder-owned status, which allows for swifter decision-making and greater agility as a business model. In order to provide the best possible service, the company treats its members as individuals, with individual's needs. By forming partnerships with them, as it does with suppliers, it succeeds in forming long-term relationships built on trust. This methodology has brought it over 400 independent members who are able to access over 400 suppliers as part of the Troy supply chain
Since the company last sat down with Supply Chain World, a year ago, it has continued to evolve, regardless of the current market climate. Keira Park, Head of Marketing, details this further: "Over the last 12 months, we have continued to invest in the ways we can offer support to our network, especially given the turbulent time that everyone is working through. We have pursued further development of our market-leading platforms to complement our team of specialists, employed to cater to our members' needs across a broad range of topics. Additionally, in collaboration with industry leaders such as Microsoft, Insight Works and Open Door Technologies, our team has designed, built and implemented a successful Enterprise Resource Planning system. The enhanced functionality of which, has been created with our members in mind."
As well as becoming the main sponsors of the Exeter Chiefs, this year Troy has made four acquisitions, with Applegate being the most recent. Thus far, the move has proven to be a huge asset; by working in partnership, the two businesses have developed the industry's first carbon emissions reporting tool. This will enable members to provide an estimate on the combined emissions for all products sold through the group to end users. There is a new dedicated business-to-business wholesale portal, in addition to the recently launched myTroy platform – which allows suppliers and members far more than just communication. It stands as the single location where the company's network will be able to access technologies such as dashboards and data insights driven by machine learning.
Troy supports its members in competing against the larger national firms. The company works as an extended team to the entire network, to amplify suppliers' brands among its members to maintain the strength of the supply chain. In turn, the members provide a passionate, personalized service, teeming with product knowledge, to end users.
This year alone, Troy has welcomed 35 new suppliers to the group, providing ever-growing opportunities for member to access diversification of products, services and opportunities to enter new markets. Due to the restrictions regarding social distancing throughout the last couple of years, this year also marked the first face-to-face Troy Means Business (TMB) trade show since before the pandemic.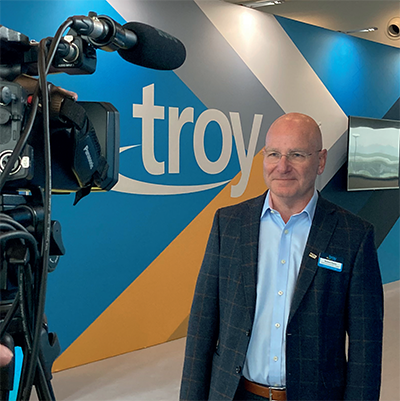 In light of this, Richard Pymm, Group Sales Director, says: "The foundation of our business has always been connecting people with people. That's why it was so great to be able to host our TMB trade show at Silverstone again, followed by our industry-acclaimed evening gala. It really is a fantastic event, with suppliers and members alike often saying it's the highlight of the year. Sadly, we haven't been able to host for the past two years, but we were certainly back with a bang! We saw record numbers in attendance generating unprecedented amounts of business, around £8 million in total being done on the day, and the networking on the evening going well into the next morning. It was a fantastic, circus-themed extravaganza! The date for next year's, in March, is already in everyone's calendars."
Coming out of such difficult times, into further supply chain issues and now the problems caused by inflation, Troy has worked hard to maintain the working environment for its staff, members and suppliers. By working closely as a team and introducing digital channels for communication, both in conjunction with the family-oriented sensibilities of the network, the overall supply chain has come out stronger. As Keira details further: "We're a family business supporting family businesses. Despite our enormous growth, it has always been important to our CEO, Paul Kilbride, to keep the family-feel at the top of the company's agenda. It's certainly a family-affair for him, with his wife, Lexi, and two sons, Alex and Oz, also working at Troy.
"The coming months and years are going to be very exciting for the Troy network. After significant investments this year, we are excited for the upcoming additions to the range of tools and services we offer our members and suppliers. We are always looking to the future and will continue in developing the ways in which we can offer support to independent businesses. There's never been a more important time to support independents. Small and medium enterprises provide 60 percent of all private sector employment and put more money, pound for pound, back into local economies. The societal benefits of retaining independent businesses across the country are huge, that's why we do, what we do, here at Troy," she concludes.
www.troyuk.co.uk