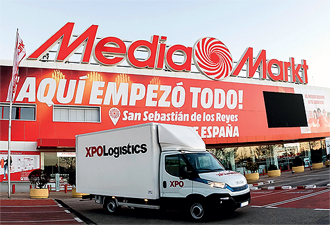 Last mile experience
XPO Logistics, a leading global provider of transport and logistics solutions has signed an agreement with MediaMarkt Iberia to provide last mile deliveries of large products in Spain, where MediaMarkt is the leader in the distribution of consumer electronics and related services.
---
Sixty depots in XPO's Spanish transport network facilitate the home delivery of heavy or bulky products ordered from MediaMarkt online. The comprehensive service includes the placement and installation of new products inside the home, as well as the removal and recycling of old products. XPO began operating this specialised solution for MediaMarkt during Spain's pandemic lockdown and is using its last mile technology to ensure safe, fast and reliable service.
For the first time in Spain, XPO has introduced digital last mile capabilities that make it easy for consumers to access information about their orders. Notifications are transmitted on WhatsApp, SMS or via automated telephone calls. Consumers can track their orders in real time, modify the date, time or place of a delivery electronically, and see the license plate number of the delivery vehicle and the driver's details in advance.