Passion, partnership, poultry and pork
Feeding the world with passion since 1991, Olymel is a leader in the agrifood industry with over 15,000 employees and proud Quebec roots
Olymel is an organization with a simple motivation – to feed the world. Based in Saint-Hyacinthe, Quebec, the meat packing and food processing company is a major producer of pork and poultry products and operates as a subsidiary of Sollio Groupe Cooperatif, Canada's largest co-operative.
A modern company with a deep pool of expertise and a long tradition of excellence, Olymel has expanded rapidly over the years through a combination of acquisition and organic growth. Today, in 2021, the firm boasts offices and facilities in locations as varied as Tokyo, Japan; Sydney, Australia; Beijing; China and Seoul, South Korea.
"At Olymel, we express our core values by never compromising on quality, continuously improving our performance in order to better serve customers, and by constantly striving to inspire trust," explains Alexandre Tarini, the company's Vice President of Logistics. "We are dedicated to exceeding the highest industry standards in all operations. Our company also endeavours to be socially responsible, setting an example through its animal welfare practices, environmentally friendly processes, and community support. Only by maintaining these standards can we achieve our mission."
Innovation has been a key factor in Olymel's success over the last two and a half decades and the company attaches tremendous importance to product development. Favoring a partnership approach to continuous improvement, the firm works closely with its customers and suppliers to stay abreast of industry trends and meet client demands. Olymel employs a similar collaborative approach to its supply chain, where Alexandre believes strong, cohesive relationships are mutually beneficial.
"By sharing information and common challenges, we work with suppliers as true partners," Alexandre says. "We buy most of our packaging material and ingredients locally, which helps with turnaround time, and we have effective contingency plans in place.
"In recent times, we have established several strategies for success, such as diversifying supply and making sure large suppliers have redundancy or minimum safety stock to cover market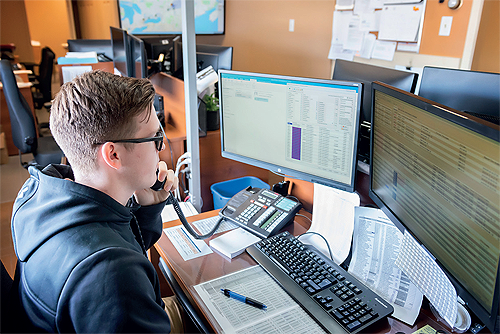 swings. Of course, we sometimes underestimate the intangible factor of working closely and fairly with our partners, but we continue to make efforts to retain a place in the minds of suppliers and customers alike."
The united front across Olymel's supply chain proved especially useful over the course of the last year as the industry battled the Covid-19 pandemic. Thanks to clear communication and flexibility, the company and its partners adapted to the changes brought on by the crisis and worked together to overcome the disruption.
"We trade commodities with over 60 different countries and have got used to adjusting short term-planning to suit market opportunities, especially for the make-to-order business," Alexandre declares. "The most complex piece is the private labels, which cannot be redirected to other customers, but we are lucky to have great partners across the board.
"When Covid-19 began to take hold in early 2020, sales in food service dropped by 80 per cent overnight and we had to determine a strategy to change our production plan and clear inventory. We adapted like most companies, complying with local authorities and developing protocols for social distancing, temperature scanning and daily Covid questionnaires. On the business side of things, we made adjustments to protect our value-added markets, such as chilled pork, tweaked things to help cover retail increase, and even removed several small SKUs, which streamlined our product mix and gave us better throughput. All in all," Alexandre summarizes, "we adapted incredibly quickly in a very challenging environment."
Instrumental to Olymel's success over the last 12 months, and throughout its history, are the company's people. Despite the firm's speedy rise to prominence, Olymel remains true to its roots and employees are still a key priority. Previously honored as Quebec's 'Employer of the Year' at the annual Mercuriades Awards, as well as 'Best HR Practice in Canada – Private Fleet' by Trucking HR, Olymel offers a safe, fun environment for its staff, with competitive pay and job security.
Aligned with its goal to give back to the community, Olymel proudly works with several new immigrant associations to support the integration of its members by offering employment opportunities.
Olymel has also established itself as a Canadian leader in seeking resources from abroad with its temporary foreign workers program. Immigration regulation enables companies to hire a maximum of ten per cent of the number of employees per operating site. Since its initiative launched, the company has developed ties with several French-speaking countries, which enabled it to hire approximately 1200 employees. Nearly 50 per cent of these individuals have already obtained permanent resident status and became permanent workers. Olymel is in the process of acquiring 600 new temporary foreign workers this year.
The company has also been working on ways to maximize its social media connectivity with the introduction of live interaction, and continues to improve its swift hiring process. "The main challenge for us is fulfilling the labor needs in our plants, distribution centers and transportation units, where most of our hires reside," Alexandre states. "Of course, there are new technologies that reduce staffing requirements, but the need for people in our business will always be high. It's a competitive job market out there right now, but that is why we try and differentiate ourselves, finding more and more creative ways to be a great employer. This includes the Kaisen Project, which has involved the development of isolated cabins for our forklifts operating in freezers, organizing shuttle systems for workers from Montreal, and improving our training and integration plan."
In order to reduce pressure, mitigate human error and improve health and safety in its plants, Olymel regularly implements new technologies to help support its workforce. In 2019, for example, the company brought in Isaac software to manage its fleet with a driver centric solution. The tool enables a paperless environment by providing drivers with live feedback on their driving methods and complying with electronic logbook regulations at the same time. Along with engine, braking and g-force information, the Isaac data is used to provide a scorecard to drivers each month with financial compensation provided accordingly. It has also assisted in reducing fuel consumption, optimizing assignment instructions, and developing a more proactive approach to planning.
More recently, Olymel has installed automated packing equipment at its plants. Linked to collaborative robots, the systems can carry out tasks that previously required employees to perform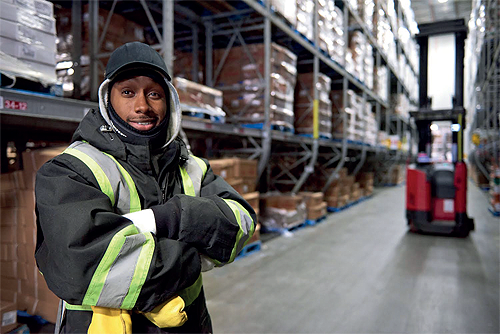 heavy lifting or repetitive movements. Similarly, the company has introduced a high definition vision system for improved quality and accuracy, as well as machine learning to facilitate the execution of more consistent, better standardized products.
"Labelling compliance is one area that is critical for export to certain countries, so we are currently working with authorities like the Canadian Food Inspection Agency to be as transparent as possible," Alexandre reveals. "Upgrading our technology and processes is really paying off for us in this area and across the board. We are now compiling data from various components, including vibration, heat, micro-delays, and pressure. We can then use AI to upgrade our maintenance program and other similar initiatives."
As Alexandre suggests, automation is playing an increasingly large role in the food industry, particularly in the areas of food safety, product consistency, labor shortage mitigation, and employee utilization. However, the implementation of automation often involves various challenges, such as space constraints and equipment adaptability. In order to manage this reality, as well as associated obstacles, Olymel has developed a partnership with Lizotte Machine Vision (LMV), a Canadian manufacturer of custom-built in-line quality control and grading solutions for the global food processing sector. Together, both companies have been able to identify and deliver a range of solutions using LMV's tailor-made systems.
"Exploiting color cameras, lasers, and x-ray technologies, LMV manufactures custom-built systems designed according to individual inspection, grading requirements, and space limitations," Alexandre reports. "Consequently, LMV has delivered a wide range of systems for Olymel to fulfill specific needs in our poultry and pork operations. Depending on the application, the system will inspect, sort and grade product in real-time and sort out non-compliant product from the processing line. This high level of machine adaptability gives our plants a wide range of flexibility within their processes.
"One system LMV developed for us inspects both sides of a chicken breast for blood spots, discoloration, fat, and remaining skin, ensuring that each breast is compliant with Olymel standards. The second application was developed to inspect chicken gizzards for color defects, ensuring that only non-contaminated gizzards are sent for final processing. LMV has also introduced its added value meat sorter to Olymel, allowing in-line inspection for a wide range of defects. From pork belly grading to bacon slice sorting to poultry product inspection, we continue to collaborate with LMV to deliver high-level machinery automation."
In 2021, Olymel plans to review its distribution network, implement new demand planning tools, pursue data valuation through BI and AI, and improve and formalize its sales and operations planning process. Though expansion, diversification and modernization will continue to act as guiding pillars for the organization's future, Alexandre believes Olymel will also focus on sustainability in its supply chain, selecting and differentiating potential partners in line with their green credentials.
"Companies like Cascades provide us with a lot of expertise on environmentally friendly packaging materials, helping us to find solutions like recycled fibers and high density cardboard to reduce our carbon footprint," Alexandre remarks. "Most recently, Cascades offered us new optimized box portfolios and modifications using AI, which can really help to generate savings. The company also works closely with our R&D department to test green packaging solutions like carton or 100 per cent recycled plastic trays.
"Cascades, and similar partners, are part of what makes our supply chain so special," he adds. "Olymel has been strengthening for over 25 years, and our suppliers have been a part of that. With the continued support of our partners, all signs suggest that Olymel will be able to continue to feed the world, with passion, for many years to come."
Olymel
www.olymel.com
Products: Pork and poultry products