Big impacts
With a determination to provide the best for its clients, U.S. Renal Care (USRC) is transforming its approach to the supply chain. With the help of Janet Watson, the medical organization is quickly becoming renowned for its exemplary innovation
U.S. Renal Care – a national healthcare provider of dialysis services – partners with nephrologists and health systems to serve people living with chronic and acute kidney disease. USRC offers a full range of services for its 28,000-plus patients in 400 dialysis centers and 200 home programs across 33 states in the U.S.
"We are growing quickly and intelligently," shares Janet Watson, Senior Vice President of Procurement and Supply Chain at USRC. She discusses with SCW how she has helped cement the company's supply chain management to make the business's support for the medical industry more robust.
One of the leading qualities of USRC is its values-driven culture, rooted in excellence, compassion, inclusion, and partnership. "Our passionate teams of clinicians and corporate staff are driven by our mission to contribute to our communities and change the lives of people living with kidney diseases," Janet says. "We are always curious and exploring ways to innovate to lead the future of our industry.
"The fundamental aspect of our business model is our joint venture partnerships with nephrologists," she continues. "We believe that the best care is delivered by physician-led teams. This is a sustainable competitive advantage that results in outstanding outcomes for our patients."
Since her time began with the business, Janet has rebranded her department from purchasing to supply chain, aligning with a more strategic and holistic focus for USRC's role. "The department is organized into two teams," she explains. "The first is focused on cost control strategy and supply stability, which is the strategic team. The second is focused on spend execution, also known as our operations team."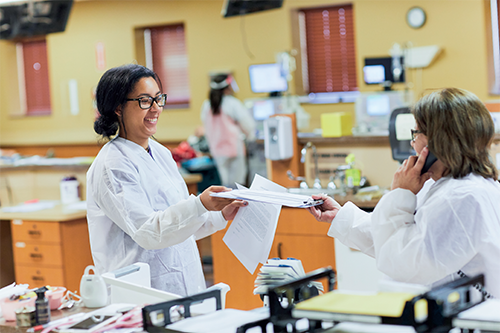 The strategic team handles category management, strategic sourcing, contracting, and value creation, while the operations team manages purchase order transactions, data integrity, and item master management, inventory management, and process improvement and training. "This benefits us in a number of ways," Janet notes. "Firstly, it allows us to manage spend by category, where the expertise is required at the Category Management Director and Contract Manager levels.
"Additionally, hiring talent with specific category experience is critical to achieving value creation and improved contracting," she goes on. "Having supply chain professionals with category expertise enables us to drive increased credibility with our stakeholders and allows us to be a true business partner with them."
"Finally, transactional processes are managed separately from the strategic team, and we are working to use technology to automate as much as possible," Janet tells us. "A key supply chain operational component driving change at USRC includes key performance indicators (KPIs) and metric dashboards to improve Open POs, Invoiced Not Received (INR) and inventory levels. Complete cost management requires a dedicated focus on strategic sourcing and category management, as well as on transactional purchasing and inventory management. To remain successful, we must have strong focus on both aspects, or one will suffer due to shortfalls in the other."
According to Janet, while other industries were implementing strategic capabilities in supply chain organizations approximately 15 years ago, the urgency for them was not as obvious in healthcare until about eight years ago. The move away from fee-for-service healthcare reimbursement to value-based care models was the impetus driving the need for a strategic focus on cost management.
Janet believes that developing talent and embedding strategic sourcing, category management and supplier performance management processes within healthcare systems for healthcare service providers is also crucial. "Third-party spend is typically the second highest expense in a healthcare organization, second only to labor," she emphasizes. "If we leave this spend unmanaged and allow locally negotiated prices and contracts, we lose so much of our buying power and standardization that leads to improved quality control."
Of course, these transformations are not without their challenges. The historic healthcare third-party supplier models were built on relationships between the suppliers and clinicians. As a result, preference drove decisions on what was bought, and from whom it was bought. In addition, it was not uncommon to find healthcare organizations that were paying different prices for the same product or service at different locations. "Supply Chain was not a known term," Janet reflects. "Everyone thought what we were doing was purchasing. These historic paradigms needed to change."
Transforming supply chain management in healthcare involves elevating skillsets, attracting talent that can be respected as a business partner with the organization leadership, and ensuring the company is delivering on strategic priorities and tackling the supplier model. "The single most important requirement, however, is alignment with the C-Suite," Janet insists. "I always say that we've got to tell people what we can do, and where they have cost opportunities. If we are waiting for leadership to tell us what they want, we are missing the mark. I am so grateful that the USRC executive leadership team is a true partner to us and values the importance of our work and how it ultimately impacts providing the best care for our patients.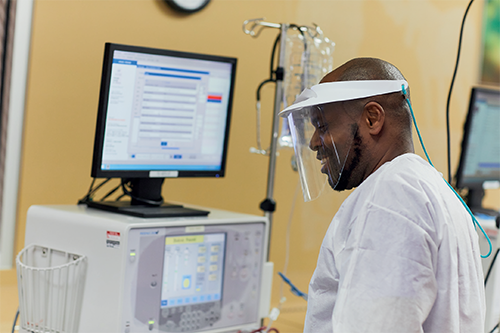 "It is so important to bring knowledge of the process and apply it to healthcare. Use data and facts to shine a light on spend patterns. Partner with suppliers to work collaboratively and drive transparency. Supplier relationships are critical to being successful – we need to find the right partners that can understand our strategies and objectives and work with us to achieve them. Partnerships that allow us to work together to solve problems, address utilization issues, ensure supply stability and price points, will be the path that leads to cost control for us, and help maintain revenue for our suppliers."
Keeping that in mind, Janet's goal is for USRC's supplier partners to see a difference in how the company contracts and fosters a relationship between them and internal stakeholders. "My team's work is done in collaboration with our internal stakeholders," she points out. "Our suppliers are starting to recognize a difference. We can bridge gaps, align discussions and work to ensure the success of the relationship."
USRC recently kicked off a new relationship with Alliant Purchasing GPO and is also working to revamp USRC's approach to medsurg distribution. "These are two foundational partnerships for a healthcare organization that can be leveraged for the benefit of both parties," Janet adds. "We foresee a positive path forward.
"I have several expert negotiators on my team. I always hope our stakeholders and suppliers learn from us, appreciate the detail and diligence we invest in the process, and benefit from robust contracts and operational processes going forward. Having said this, we are only as good as the knowledge we gain, and we must learn the business we support. While strategic supply chain processes can work with any subject matter, if we do not take time to learn the business, the equipment, the processes, and operational challenges, we are not doing our job," she expresses.
Janet continues to underline how the thought processes around contracting, strategic sourcing, and negotiating with suppliers and contractors are different outside of healthcare. "I have supply chain professionals on our team now from the energy industry, telecom, aerospace, construction and defense. This diversity of thought and focus on transforming business processes is a key reason why I believe in infusing talent from other industries onto the healthcare supply chain teams I have built.
"I also believe in building culturally diverse teams – we have team members from Iran, El Salvador, Colombia, Peru, Uruguay, India, S. Korea, and Pakistan. And this is on a team of only 18 people! We like to start our staff meetings with a discussion around how we are living our values of excellence, inclusion, partnership, and compassion. With our highly diverse team, we learn so much about cultures, experiences, and what really shapes each one of us. This drives a strong team that cares about and supports each other. I could not be prouder of the intelligent and highly skilled team working alongside me."
Considering the impressive transformations that Janet has brought to USRC's supply chain, it comes as no surprise that she is determined to maintain this momentum. When asked what her predictions are for the future, she reflects on the fact that there is still much work to be done including focusing on supplier diversity, investigating asset management tracking, overhauling inventory management processes, and building transparent means of managing indirect spend. With her excellent team and their leading expertise, there is no challenge too tough for USRC.
"We try things we know work but may not be commonplace in healthcare," she concludes. "It is great to be needed for the skills and talent we can bring to help organizations with such an important mission – patient care and making people's lives better. I once had a director refer to healthcare as the last supply chain frontier, and I see that as a great challenge. It's a place where there is still a lot of opportunity to make a big impact by bringing in process, technology, and people to build the foundation. Once we have the foundation, we can continue to scale."
U.S. Renal Care
https://www.usrenalcare.com
Services: Dialysis services