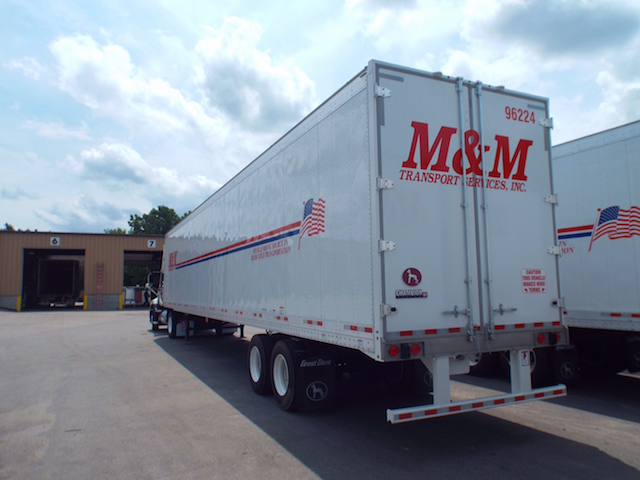 M&M Transport Services dedicates itself to be the safest and most reliable freight transportation supplier nationwide.
Mark Warsofsky founded M&M Transport Services in 1990 and has grown the company into a nationwide, dedicated transportation provider for some of the biggest retail, manufacturing, distribution and logistics companies in the country. "M&M's well-controlled command of its business has enabled the delivery of the highest-level of service and lowest cost to its customers," the company says. "This was made possible by investing our most important asset – inspired people."
The West Bridgewater, Mass.-based company's modern fleet of more than 450 tractors and 2,000 trailers service a diverse customer base from multiple terminal locations in Massachusetts, Connecticut, Indiana, Maryland and Arizona. M&M Transport Services' tractors and trailers are equipped with state-of-the-art onboard communications, providing customers with a level of insight and service unmatched in the transportation industry. "From around the corner to around the United States of America, we will take care of your cargo and deliver it safe and on time," the company says.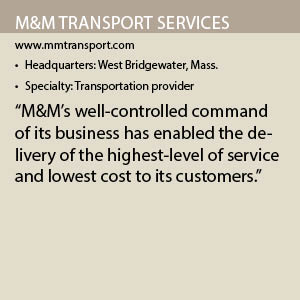 M&M Transport Services offers dedicated fleet services to shippers by committing to specific amounts of volume and equipment. The company uses 53-foot dry vans to move freight reliably and safety throughout the country. Its services also extend to its customers' yards and performing contract maintenance on company-owned equipment to keep it running well.
M&M Transport Services prides itself on investing in the latest technology available, including satellite communications and the latest dispatch software for real-time communications. Its more than 2,000 trailers are equipped with satellite tracking through SkyBitz technology. "We strive to provide our customers with the highest level of service in the industry," the company says. "We are committed to helping our customers operate efficiently, effectively and in a safe manner."
Reliable Service
The Kraft Group Vice President of Strategic Logistics Solutions Rob Shepard says M&M Transport Services has been Rand-Whitney Containerboard's dedicated fleet provider for the past 10 years, logging more than 30 million miles and 34,000 deliveries. "They have been a great, dependable partner that consistently delivers outstanding operational results and innovative solutions," he adds. "Mark Warsofsky has built a company culture where superior execution, integrity and dedication permeate throughout his organization."
New England Groupage CEO Joseph Meunier says in the years prior to forming a relationship with M&M Transport Services, his company had to deal with carriers that operated with an unwelcome degree of inconsistency that created a great deal of frustration for the company. That all changed when New England Groupage partnered with M&M Transport Services to handle its north and southbound trailer loads between Holbrook, Mass., and Carteret, N.J.
"Since we started utilizing your services and your team we have finally relieved ourselves of that frustration," Meunier says. "The service levels, the convenience and the integrity of everyone in your organization has been something we had never been accustomed to in previous years. We actually think of your drivers as part of our team as we have become so familiar with them."
Inspiring Growth
M&M Transport Services' drivers are some of the most experienced professionals in the industry today, the company says, and "serve as a symbol of our commitment to excellence in service." As one of the leading transportation service companies, M&M Transport Services is always looking to grow its family.
M&M Transport Services' employees are reliable partners in transportation services. "The employees of M&M Transport Services represent the finest and most experience people in the transportation industry sharing expertise in freight, management, logistics, safety, DOT compliance and customer service," the company says.
Safety is M&M Transport Services No. 1 priority on the road, in its distribution hubs and at its customers' facilities. "Our safety professionals have extensive experience in all matters of transportation safety, security and compliance," the company says. "M&M Transport Services' mission is to be the industry's benchmark for safe transportation and a leader that other companies strive to duplicate."
The benefits of becoming a M&M Transport Services employee include driver recognition programs, matching 401K, insurance, state-of-the-art trucks, safety incentive programs, dental, vision and family health insurance, paid vacation and holidays and company paid life insurance. Drivers are also guaranteed steady work and local routes.
M&M Transport Services will continue to be a privately held corporation that is family owned and operated by experienced freight professionals. Warsofsky' son, Adam, is working his way through the ranks of the company to one day lead it into the future.
"Our primary objectives are to create lasting customer loyalty, one customer at a time for controlled and continued growth," the company says. "M&M Transport Services' diversity and strong management team enable flexibility and creativity in addressing customer needs in an ever-changing world of operational and logistical dynamics."