Love's Travel Stops & Country Stores Inc.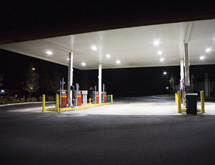 The biggest things almost always start out very small, and that's certainly true of Love's Travel Stops & Country Stores Inc. Today, the company operates more than 290 locations in 39 states, making it a multibillion-dollar operation. However, what now spans the United States started in 1964 with a single service station in Oklahoma owned by Tom and Judy Love. From those humble beginnings, the Love's name began spreading across the country and shows no signs of slowing down even today.
According to the company, the success of Love's throughout the country can be traced back to the way Tom and Judy Love ran their original location.
"At Love's, we're passionate about providing friendly service and clean, modern facilities stocked with the fuel, food and supplies drivers need to keep them going," the company says. "We were founded on this idea in 1964, and it remains our guiding principle more than 40 years later."
Based in Oklahoma City, Love's operates two types of locations familiar to commercial drivers and motorists alike. Love's Country Stores are gas stations featuring convenience stores, while Love's Travel Stops are larger stores located on interstate highways and catering to truckers and RV drivers. Along with the standard convenience store features of a Love's Country Store, Love's Travel Stop locations also feature restaurants including Subway, Arby's and Carl's Jr. as well as trucking supplies, showers and RV hookups.
The first Love's Country Store location opened in 1972, and the company says this location featured many of the conveniences that travelers have come to expect from service stations. "This store was revolutionary because it combined a convenience store with self-service gasoline, which was a new concept at the time," the company says.
As one of the pioneers of the convenience store format, Love's says it continues to innovate today with the addition of new revenue streams. For example, the company has added Love's Truck Tire Care service to provide tire care and roadside assistance to travelers.
"Love's has been at the forefront of the convenience store and travel center industry for more than three decades," the company says. "We were among the first to combine self-service gasoline with grocery items, offer fresh deli sandwiches, add quick-service restaurants and sell gift and novelty items. Today, we continue that spirit of innovation by adding Truck Tire Care centers and roadside assistance to our Travel Stops."
Family Feel
Offering the same consistent level of quality customer service Love's has become known for relies on a strong internal culture, and this is possible thanks to the company's strong family ties. Tom Love continues to be involved in the company's operations, and his children have taken on leadership positions within the company.
Frank Love is president and COO, Greg Love is president of Love's development companies and Jenny Love Meyer is vice president of communications.
"The Love's difference is a dedication to treating others like they are family," the company says.
The company's family focus means Love's commitment to the community extends beyond providing the services it has become known for. "At Love's, family values go beyond our name," the company says. "We care about our employees, our customers and the communities in which they live. Our stores across the country contribute to local nonprofits every year, and the corporate office in Oklahoma City donates at least 2 percent of net profits to local charities."
One of the company's most prominent charity efforts involves Children's Miracle Network Hospitals. Every September, Love's raises money for the network through solicited donations from customers as well as fundraising events such as golf tournaments, bake sales and cookouts.
"Since beginning its affiliation with Children's Miracle Network Hospitals in 1999, Love's and its customers have raised more than $6 million to help sick children in the communities where it operates stores," the company says.
Still Growing
Thanks to the commitment to quality service and community involvement that Love's has demonstrated over the years, the company says that it stands in good position to continue its tradition of success, innovation and growth for the foreseeable future.
"In 2000, Love's Country Stores debuted at No. 446 in Forbes Magazine's annual list of America's largest private companies," the company says. "By 2012, Love's Travel Stops had climbed to No. 9. Currently, Love's operates more than 290 locations and employs almost 10,000 people in 39 states. With annual sales exceeding $17 billion, Love's is a proven leader in the travel stop and services industry, and is continuing to grow." ­­­