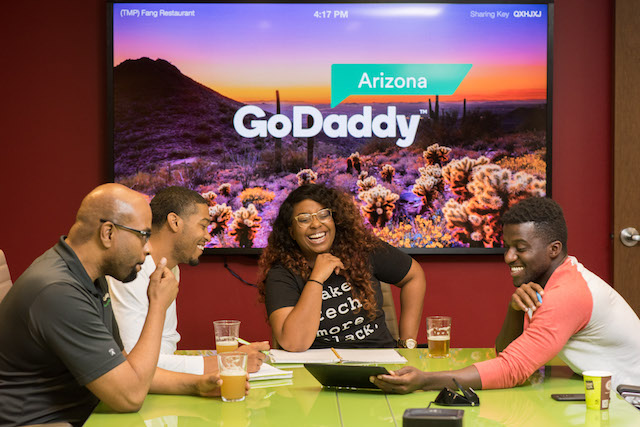 (Photo credit: Gabe Scalise @ GoDaddy: gscalise@godaddy.com)
GoDaddy is moving its procurement department to a global model to support its growth.
By Alan Dorich, Senior Editor at Knighthouse Publishing
When small businesses come to GoDaddy, it improves them with the tools to win. "[We're] helping them transfer their ideas into a success," Chief Procurement Officer Keith Tice says. "Every employee that works here is focused on that."
Based in Scottsdale, Ariz., GoDaddy is the world's largest cloud platform and domain tech company for small businesses. Founder Bob Parsons started the company in Scottsdale, Ariz., in 1997.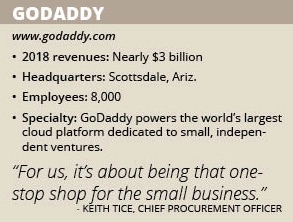 Previously, he had served in the U.S. Marines and awarded with a Purple Heart. When Parsons returned to the United States, he visited Stanford University while on a business trip and began his journey towards learning about computer coding. He went on to found a high-tech tax business, which he sold in the mid-1990s for $65 million. "He used that as seed money to start what is known as GoDaddy," Tice says, noting that the company has grown to nearly $3 billion in revenues.
Today, GoDaddy has approximately 18 million customers and manages 77 million domains. "We are the largest small business supporting company on the planet with those numbers," Tice says. "For us, it's about being that one-stop shop for the small business."
While the company was previously known for 99-cent domains, "That's still a huge portion of our business," he says, but adds that it also provides hosting and other services, including web security and online marketing.
GoDaddy also has made approximately 30 acquisitions in the last five years of various companies and technologies, including Host Europe Group. "Those are all to enhance our business model for our 18 million customers to run and operate that business as easily as possible," he says.
Ranking Suppliers
A 21-year veteran of procurement, Tice joined GoDaddy in May 2013. "My background was in food and protein animal science, which is 180 degrees from the high-tech world," he admits, adding that his previous experience includes Dial, a Henkel Company.
GoDaddy charged Tice with implementing a procurement operation. After looking at 24 months of purchasing, he discovered it needed more structure. "There were absolutely no internal communications in most categories of spend about which products were being purchased," he recalls, adding that the company had more than 28,000 different suppliers.
Since then, Tice has created categories that its suppliers have to fit into, using a format similar to the Gartner Magic Quadrant grid. "In order for a vendor to become a vendor, they have to be high on the value axis," he says, noting that core suppliers and challengers who provide new technologies are at the top.
In the middle are its "developer suppliers," which are ranked at a mid-tier value, while firms that are defined as "bottlenecks" are placed at the bottom. "We had a significant amount of suppliers we put in that category," he states. "They were doing nothing but the bare bones minimum."
Tice also put together a spend queue for the company. "If you look at that today, you will see that roughly $1 billion of spend is under 1,700 different suppliers," he says, noting that he also is moving the procurement department to a global model.
In 2013, GoDaddy primarily did the majority of its business in the United States. But today, after its multiple acquisitions, "We are in 56 markets and in 26 different languages," he says, noting that his previous experience overseas helped him establish an organization to support that growth.
"I knew the markets and knew the expectations of what businesses look for," he says, noting that he now has a team in the United States managing category spend, as well as another in Cologne, Germany doing the same for the EMEA region.
Top Notch
Tice is proud of GoDaddy and what it stands for, which is "helping our customers kick ass every day," he says, noting that its Customer Care Centers fuel them in this goal.
"Those folks are the life of GoDaddy," he says. "They're on the phones in different facets, talking to our customers about how to change their business."
But these are not the typical call center employees, Tice asserts. "They listen to the customer and really help them," he says. "The organization is really top notch and the reason why GoDaddy is where it is today."
Tice also is proud of how the company aided Sievo, which provided him with its Spend Analysis solution. Just as GoDaddy helps small businesses, "They were essentially also a startup," he recalls.
This allowed Sievo to expand out of Helsinki and begin selling into the North American market. "GoDaddy was the first company outside of Western Europe for them and now they're based in the United States with their offshore division," he adds.
Tice sees more growth ahead for GoDaddy. "We have full intention of continuing our international expansion," he says, asserting that the U.S. market is not saturated. "If you look globally at the opportunities for small businesses, it's just astonishing what you'll find."
Tice notes that there are many potential customers who need GoDaddy's services. "The number of small businesses that are not on the Internet is enormous," he says. "We're going to continue to go after them and help them."