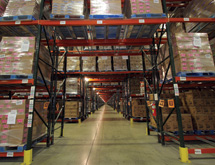 Just as if it were merging lanes or changing to another connection, NFI has seamlessly transitioned from one service to the next, offering a one-stop shop for clients' logistical needs. What started in 1932 as a one-truck transportation company has grown into a full-service logistics company with 12 divisions providing transportation, distribution, warehousing, intermodal delivery and even commercial real estate development services.
"Customers are looking for easy-to-do business – one-stop shopping – because they want visibility of their order throughout the glass pipeline," explains Jeffrey Brown, president and vice chairman of NFI. "So no matter where it is in the process, our technology provides customers with visibility across the supply chain. They can see where product is in the warehouse, where it is in the trucking and intermodal process. It allows them to manage their inventory much better, and by using a one-stop-shop company, they can reduce their inventory and achieve the same amount of sales or greater."
To meet that need, this third generation family owned company has grown steadily throughout the years to amass a portfolio that today includes more than 20 million square feet of warehousing, 2,000 tractors, 6,700 trailers, 300 refrigerated trailers and 120 containers. The company continues to grow, and is one of the fastest-growing supply chain companies in North America.
Building Relationships
Brown explains that all of NFI's growth is tied directly to the specific needs of its employees and customers. For instance, 10 years ago it moved from a transactional business to a contractual business when it replaced over-the-road trucking with dedicated fleets, making sure that drivers traveled only within a 250-mile radius and returned home every night or every other night. The switch dropped NFI's truck driver turnover rate to 30 percent, far less than the industry average of 117 percent, providing stability for the company, satisfaction for the drivers and service and capacity for customers.
But, being that the company is a North American provider serving the United States and – as of three years ago – Canada, a strict 250-mile radius doesn't jibe with all of its clientele, most of whom are in the retail business and need product delivered from coast to coast. NFI formed relationships with more than 1,000 transportation companies to create brokerage and intermodal divisions to expand its radius from 250 miles to thousands of miles, and still get its dedicated fleet drivers home every night. NFI manages a group of trucking and rail transportation companies and brokers OTR business to them.
The company set itself up to handle long-haul business, but because it serves a variety of industries – including consumer goods, beverage, food and aerospace – it must offer a variety of trailer solutions to be relevant to each industry. That is why it has partnered with manufacturers to develop equipment specific to different industries.
"In the intermodal arena we are one of the early developers of refrigerated containers," Brown explains. "We have developed 53-foot containers, not trailers, but containers. Allowing it to be a container that rides on the railroad, you can double-stack those containers instead of putting a trailer on the rail, which you can't double-stack. So, you get twice as much inventory in the same space. We started that last year and we have over 400 refrigerated units operating today."
Managing Brick and Mortar
The ability to deliver products by several means begs the question of where all of the goods will go. NFI realized that if customers have a need for trucking then they also have a need for storage.
The company started its warehousing division with rented space, but at the behest of its clients NFI began a warehouse and distribution arm that provides dedicated and shared use of warehouse facilities, ambient and temperature controlled storage, inventory and process management, cross-dock operations, seasonal overflow management and food-grade facilities.
Additionally, NFI has a real estate development arm where it develops, designs and constructs build-to-suit warehouses at the customer's request. NFI also leases that space to customers and provides property management.
"By providing services in each of these business lines – trucking, warehousing, intermodal, global, brokerage – NFI provides total value," Brown explains. "Our customers have come to expect NFI to deliver an all-encompassing solution at a competitive price." ­­­