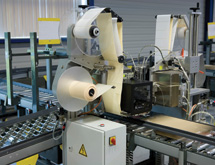 Unisource is one of the industry's largest global marketers of printing materials, facility supplies and equipment, and packaging materials and equipment. Because of its expertise, more than 40 years of experience and alliances with top national brands, Unisource says it offers the most comprehensive suite of customer solutions in the industry.
"As a leading global provider, we are a one-stop solution," the company says. "We provide the support, scalable resources and industry expertise to help our customers improve operational efficiency and reduce costs."
The company's capabilities include engineered packaging design, e-business technologies, logistics, paper procurement, facility management and sustainable best practices.
Unisource was founded in 1968 and today makes its headquarters in Norcross, Ga., just outside of Atlanta. The company employs more than 4,500 people globally at 85 distribution centers. Unisource boasts 17 million square feet of inventory capacity, and it operates 675 delivery trucks.
The majority of Unisource's workforce is located throughout the United States and Canada. The company also boasts strong presences in China, Singapore, Taiwan, Belgium, Mexico, Poland and the United Kingdom.
Countless Capabilities
For its packaging engineering and design services, Unisource offers material-neutral solutions, structural design, graphic design, rapid prototyping, packaging and product testing, and sustainability.
"Our in-depth materials knowledge, practical experience and strategic manufacturing relationships create solutions that reduce cost, add value to [customers'] products and drive sales," the company says. "Unisource Engineered Sol­utions' structural engineers and creative designers are innovators in packaging.
"At our dedicated engineering solutions centers in New Berlin, Wis., and Cerritos, Calif., we study [a customer's] parts, packaging and distribution channels to identify [their] unique challenges and opportunities," the company adds.
For graphic design, Unisource explains that its artists can develop eye-catching  designs and colors to keep consumers looking at a customer's products.
"Experts at working within existing branding guidelines and retail store restrictions, Unisource-designed packaging will strengthen your brand and engage your customers," Unisource says.
Unisource also offers rapid prototyping for its clients who need quick turnarounds to turn ideas and concepts into tangible solutions. These services include printed or plain mockups and custom thermoforming of plastics, and the company's 3-D printer will create molds necessary for thermoform and molded-pulp prototypes.
"[Customers are able to] speed up [their] product packaging design cycle by taking advantage of computerized design, palletizing and prototype development from Unisource Engineered Solutions," according to the company.
The company's packaging and product testing includes placing packaging products through any conceivable scenario by subjecting it to the rigors of the Unisource International Safe Transit Association (ISTA)-certified testing labs. According to Unisource, the company offers testing in labs certified by the ISTA and staffed by trained technicians. The battery of tests checks for performance, development, vibration, shock, compression, burst, environmental recording and drops.
"Our technicians simulate the range of stresses packaging must withstand, diagnose problems and test proposed solutions to ensure product integrity and shipping performance," the company states. "And if [a customer] involves us in [their] product design process, we can bring even more value.
"We can perform these same tests on product to determine product fragility," the company continues. "From there, [customers] may decide to make [the] product more rugged to reduce packaging cost. We feel that no other supplier can match this service."
Logistically Speaking
Unisource explains that it also helps its clients meet their various logistics needs. The company leverages its nationwide infrastructure, analytical tools and its industry expertise to optimize its customers' supply chain networks while achieving economies of scale.
"Think of Unisource Logistics as your just-in-time solution," the company says. "Unisource is already in [many] markets with more than 80 distribution facilities across North America, along with nearly 15 million square feet of warehouse space and a fleet of 500 'Big Red' trucks.
"Drawing upon more than 40 years of industry expertise, our logistical experts partner with customers to fully understand their current infrastructure and offer comprehensive solutions to solve their toughest logistical issues," Unisource adds.
Sustainable Commerce
Unisource says it is committed to environmental stewardship and the conservation of natural resources. The company says this is why it constantly searches for innovative solutions that protect the environment and the communities  it serves.
"At Unisource, our commitment is to corporate sustainability and delivering innovative customer solutions, while focusing on reducing environmental impacts," the company says. "This ensures all of our stakeholders – our customers, team members, suppliers and other interested third parties – that our company operates in an environmentally responsible manner." ­­­