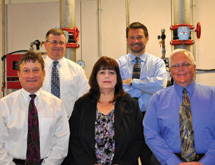 During World War I, Victory Pipe Joint Company — the company that would later become Victaulic – developed a pipe bolted with mechanical couplings that was used to deploy water and fuel quickly to Allied forces in combat. The company later combined the name Victory with Hydraulics to become Victaulic and shifted its focus to commercial piping applications, but continued to develop unconventional solutions for a variety of markets.
Nearly 90 years since its inception in 1925, Victaulic operates manufacturing facilities in the United States, Canada, Mexico, Belgium, Poland, China and India, with 3,000 points of distribution and sales in 120 countries. Victaulic serves power, oil, gas and chemical companies; mining; fire protection; commercial HVAC; shipbuilding and many other markets.
Supporting its global growth with its concurrent supply chain complexity is one of the challenges Victaulic's supply chain team, headed by Tom Neuhaus, faces regularly.  "We have a team of category managers that are primarily devoted to product introduction," explains Neuhaus, Director of Global Supply Chain. "They work closely with our global product managers and our product development teams, and also direct global sourcing and supplier qualification activities."
Victaulic's centrally led leadership model encompasses issues such as global standardization, communication and synchronization among strategic sourcing, factories, operations management, inventory management, logistics, distribution and other functional groups.
Striving for Gold
Victaulic calls its guiding global initiative to maximize operational and supply chain efficiencies "FEM" (Facilities Excellence Mapping). "That's where all of our facilities are on a path to qualify for bronze, silver and gold levels of business and operational excellence," Neuhaus explains.
Each facility is on its own timeline, path and road map to achieve its level of FEM, as they are not all starting from the same point. "We recognize that we have different challenges and capabilities within the regions that we operate in, and view this as a continuous process for us, which is what drives our efficiency improvements," Neuhaus says.
Technology at work
Neuhaus says Victaulic's global presence has shifted its approach. "We've invested in becoming a more strategic business partner, focusing on growth, regionalization, supply assurance, value creation and IP protection," he says. "We're continuing on that maturity path by recruiting strategic thinkers, developing strategic processes and also developing our skills and competencies around global spend management."
To ensure maximum efficiency, Victaulic recently invested in spend and inventory analytics tools that reach across our global operations. "For the first time, we're able to utilize real-time data across multiple ERP systems," Neuhaus explains.
Victaulic's ultimate objective is on-time delivery to its customers and distribution partners. To support this goal, its team established standardized inventory management and delivery metrics around the globe to manage its inventory levels at the factories, branches and distribution centers.
Partnering with 3PL logistics providers and implementing a robust strategic sourcing and supplier qualification protocol have also enabled the company to navigate the increasingly complex international supply chain. "Over the years, we've been able to identify, develop and partner with suppliers in various regions where we can expect sustainable cost, quality, lead time and delivery performance," Neuhaus notes.
A Step Ahead
Victaulic's supply chain maturity became apparent when a challenge surfaced recently with one category of raw materials – elastomers, a rubber-like compound used in many of its products around the world.
Many of these vital chemical components came from one company and, in some cases, from one facility. "A substantial portion of our global revenue is tied to products that contain these elastomers, so we made this a high priority and teamed up with our material technology group along with our engineering team to qualify dual and in some cases multiple supply sources for each of the ingredients," Neuhaus notes. "It's a reflection of our maturity and global growth to really understand what our risks are and to mitigate those risks before they become a supply disruption." ­­­