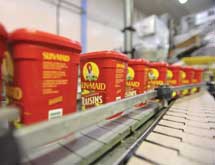 It's an exciting time for Sun-Maid Growers of California as healthy food choices continue to grow in popularity with people across the nation. Vice President of Supply Chain John Slinkard says the company's products have strong appeal to consumers looking for healthy alternatives.
"In particular, snacking is becoming a business even more so than it was in the past," he says.
Based in Kingsburg, Calif., Sun-Maid specializes in raisin and dried fruit products grown primarily on California farms. Slinkard explains that the company began operations in 1912 as the California Associated Raisin Company.
Two years later, the firm launched the Sun-Maid brand name, and today, Sun-Maid products are sold in stores worldwide. Although raisins account for 65 percent of Sun-Maid's business, its other products include apricots, prunes, dried apples, figs, peaches and many other dried fruits.
Sun-Maid's customer base is very broad in North America, Slinkard explains. "We can be found in every grocery store," he says, noting that its products are also carried by grocery stores, general merchandise stores, drugstores, dollar stores and other retailers.
"About half of Sun-Maid raisins are packaged and sold in our familiar consumer packages, the other half are sold for use as an ingredient in a wide assortment of food products," he adds. "We sell both in retail and in bulk in 60 countries, so we're pretty diversified."
Sun-Maid Pride
Slinkard started working at Sun-Maid Growers in 1979, when he graduated high school and needed a summer job. "It's obviously been a very long summer," he jokes, noting that he initially worked in the shipping department, one of many departments he currently oversees.
Over the years, he held several positions before taking his current role in 2008. He adds that he is proud of Sun-Maid and its product. "It's healthy and versatile," he says. "People are loyal to the brand and the lady on the box."
The company has earned this customer loyalty by making quality its No. 1 focus. "Obviously, there are other dried fruit choices out there," he says. "People expect quality when they buy Sun-Maid and we put a lot of emphasis on that," he says. "We control a majority of the dried fruit market and we don't take it for granted."
Sun-Maid utilizes 17 third-party warehouses in its North American supply chain. "We do a good job moving products to our customers, with exceptional fill rates exceeding 99 percent and on-time delivery rates of 98 percent," Slinkard says.
When choosing distribution partners, Slinkard says, Sun-Maid looks for partners that have established connections to their local regions. For instance, "When we're serving a market like Texas, we make sure we partner with someone that's got synergy not only with our company's needs but with our customer's needs too. That can range from consolidation programs to after hour delivery needs," he says.
Many of Sun-Maid's warehouse and transportation partners have been with it for more than 25 years. "When we go into [a partnership], we make it a point to be there a very long time," he says. "So we do our leg-work up front to ensure we're selecting the right partners. If you were to ask them, they would say we're a good partner on the other side. We pay our bills on time and we communicate well. It's a win-win for both sides of the equation."
Slinkard personally nurtures close relationships with suppliers. "I take a lot of pride in that," he says, noting that he often looks for firms where the management is hands on and that operate like Sun-Maid, similar to a family owned business. "We operate on a close connection [with them] with a lot of trust."
For the Long Run
Slinkard sees a strong future for Sun-Maid. "We're a well-managed, stable company with a great product offering," he says. "We're in it for the long run."
He anticipates strong business, thanks to the increased interest in healthy foods. "When you look at raisins, it [only] has one ingredient, and the water has been reduced naturally by the sun," he says.
Sun-Maid also plans to increase its share of exports. "In some markets, dried fruit is not a well-known or commonly used entity," he says. "Sun-Maid began developing raisin markets in Asia as far back as 1918."
It plans to introduce dried fruit to new countries and markets without well-established dried fruit consumption. "Ten years from now, you're going to see us exporting to countries we're not exporting to now," he predicts.  ­­­