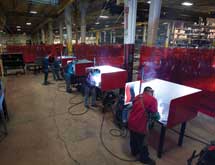 Milwaukee-based Super Steel has needed to be as resilient as steel over the past several years, according to President and COO Dirk Smith. Founded in 1923, the contract steel manufacturer went through a series of failed management buyouts that left the company in a weakened condition. At one time in the mid-2000s, the company's revenues were more than $100 million, but when Smith arrived nearly two-and-a-half years ago, it was a mere $27 million.
Super Steel's fortunes are turning around, however, and the company is steadily returning to its former glory, with revenues of around $70 million expected in the coming year. Smith says this is due to the company's ability to offer value-added services, its strong relationships with its suppliers and its focus on serving its employees as best it can.
From its 450,000-square-foot facility in Milwaukee, Super Steel provides contract steel manufacturing services to a variety of markets. Although the company's key focus is on building freight locomotives, Super Steel also brings its considerable abilities to bear in work for the agriculture, construction, defense and mining sectors. "We're touching all the key industries," Smith says.
Nice Niche
Super Steel is far from the only name in the contract manufacturing marketplace, Smith says, but its strengths make it one of the best. "We're in a tough spot here in the Midwest where there are a lot of contract manufacturers," he says.
Where Super Steel stands above the rest of the pack is its focus on complex, large components. By giving customers the option to order larger, complete components, Super Steel saves them the trouble of having to source smaller components from multiple vendors. "We've carved out a nice niche for ourselves," Smith says.
Specializing in large, complex components means that Super Steel has to source all the smaller components that go into them, however. This means Super Steel has to have nearly flawless supply chain operations, and Smith says the company excels through its relationships with its suppliers. "Like anything, in any good business relationship, you have to form a partnership with whoever you're working with," Smith says.
Most important among those relationships are the ones Super Steel has with its top-20 suppliers, who constitute nearly 90 percent of the company's business. Smith says the company emphasizes openness and honesty with its suppliers, and that means providing them with accurate forecasts of its demand and specific needs. With that knowledge in hand, Super Steel is able to sign six-month contracts with some suppliers that ensure that they can provide consistent prices and on-time delivery for that time period. Smith says that although the monetary cost of components is crucial, looking at the ease of doing business has just as much importance for Super Steel and its customers.
Super Steel also offers customers services such as painting that other manufacturers can't. The company has dedicated painting facilities in its plant that can process large components quickly and accurately. "So we're doing a fair amount of value-add beyond your traditional contract manufacturer," Smith says.
Internal Customers
Super Steel understands that there is more to a successful operation than making sure customers are taken care of, Smith says. "We look at the internal customers, as well," he says.
Because Super Steel is selling its abilities and service as much as the components it produces, Smith says the company works hard to ensure that its employees are satisfied and fully invested in its success. Super Steel pays close attention to compensation as well as its internal culture as ways to attract and retain the best and brightest of the labor pool. "We look at ourselves as winners," Smith says.
Attracting and retaining qualified employees has taken on greater significance in recent years because the labor gap in the Midwest has widened. Smith says nearly 50 percent of Super Steel's employees are welders, and Wisconsin in particular has been hit with a shortage of qualified welders recently. To counter this trend, Super Steel has boosted its in-house training programs and created new partnerships. "We're active with the trade colleges and the technical colleges," Smith says.
However, Smith says Super Steel hasn't been hit as hard by the labor shortage as other manufacturers because of its reputation for better-than-average compensation and its winning culture. "The best recruiters we have are the employees we have," he says. "People want to be part of Super Steel."
'No In-between'
Even though conditions in the marketplace are always changing, Smith explains that Super Steel has the pieces in place to continue its winning ways as the company closes in on its goal of returning to $100 million in revenue.
Smith notes OEMs are looking for greater vertical integration in their suppliers, and manufacturers such as Super Steel that offer value-added services are going to be attractive to them. "They always want less lead time and less cost," he says.
By taking on projects in a greater number of sectors, Smith says Super Steel is on the right track. "Diversification has been a real key for us over the two-and-a-half years that I've been here," he says. "You're either growing or you're dying – there's no in-between."  ­­­