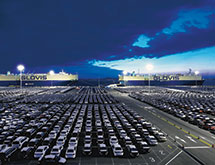 GLOVIS America Inc. started in 2002 with key people from the logistics departments of Hyundai Motor America and Kia Motors America behind the wheel. "The idea was to obtain synergies with the combined volume of the two companies," says President and CEO Glenn Clift, formerly of Kia. 
Hyundai and Kia are the No. 1 and No. 2 largest auto manufacturers in South Korea, respectively. Furthermore, Hyundai owns one-third of Kia and is the fifth-largest global automaker.
The name on the company headquarters building says "Hyundai GLOVIS" but in the United States they operate under the name GLOVIS America Inc., a subsidiary of Hyundai GLOVIS Co. Ltd., headquartered in Seoul. It is a publicly traded company with ownership common to Hyundai.
The creation of GLOVIS America was originally intended to address several supply chain inefficiencies. Previously, Hyundai and Kia each utilized different ports of entry in the United States. This was not efficient and often resulted in vessels making several port calls and traveling below capacity. Furthermore, GLOVIS America has reduced the number of ocean ports for its customers from nine to six and cut its inland ports from two to one. It also opened two new processing centers at manufacturing plants in the United States. Initially GLOVIS utilized 12 trucker companies to deliver vehicles and now there are 17. GLOVIS currently utilizes all six major Class 1 rail carriers; when it started, it only worked with one rail carrier.  Adding truckers and rail carriers was necessary due to its customers' domestic production that required shipping to all U.S. and Canada destinations from one origin rather than numerous ocean ports. The average inland transit distance increased dramatically.
In its first year, GLOVIS America employed 32 people. Now, it has more than 100 HQ employees, and including its subsidiaries, the number of employees is more than 2,850. In 2003, it handled 658,000 new vehicles and in 2013 it processed and delivered more than 1.2 million.
Perfect Cars
When GLOVIS receives vehicles from a factory or ocean vessel, it washes the vehicles and adds fuel as necessary. Accessories such as spoilers, floor mats or mudguards are added as requested by the customer. GLOVIS then performs a quality inspection on 100 percent of the vehicles. 
Its processing sites are located in:
+West Point, Ga. (plant site)
+Montgomery, Ala. (plant site)
If any type of repair is required, GLOVIS ensures it's accomplished to factory specifications. "Every car leaves our facility perfect," Clift explains. "Otherwise, it is our policy not to let it go."
GLOVIS arranges for the transportation of the automobiles to the customers' auto dealers. In the case of vehicles traveling to Hawaii, Alaska, Puerto Rico, the Dominican Republic and Guam, the autos are sent by ship. Otherwise, they travel by rail and truck. Sending them via specialized rail cars is more efficient but a bit slower than truck transport, Clift notes. 
When new car sales slowed in 2009-10, many vehicles did not require immediate delivery to auto dealers and GLOVIS scrambled to find places to store them. Today, its biggest challenge is shipping vehicles as quickly as possible to the dealers, Clift says. GLOVIS is therefore streamlining port processes, conducting logistics network optimization and always studying better methods for faster delivery. 
Auto sales tend to peak in the spring and summer so GLOVIS must adapt to this seasonal schedule. New models must sometimes be delivered to all dealers at the same time for promotions and this requires serious planning from the third-party logistics provider, Clift says.
At plants in Georgia and Alabama, GLOVIS handles inbound parts, sub-assembly work and sequencing specific parts onto the manufacturing assembly line. The company continues to look for opportunities to expand its service offerings. It recently expanded into fuel distribution and wholesaling. This makes sense for GLOVIS as it works in this field when fueling vehicles at its processing facilities.
"It has a synergy effect," Clift says. "The added volume will provide more buying power for the fuel purchased for our vehicle processing customers. GLOVIS has acquired a port processing subsidiary company and is considering doing the same for trucking and warehousing. It's currently expanding North American operations to service auto dealer customers in Mexico.
"There is a lot of production coming online in Mexico," he adds. One potential challenge, however, is rail infrastructure capacity south of the border.
Beyond the Supply Chain
GLOVIS conducts an annual supplier meeting. Its annual meeting for the entire GLOVIS community is a sought-after event because of its entertainment, dinner, golfing and target-shooting activities. Some work even gets done, too, with logistics providers and customers coming together to evaluate business and recognize top performers. Along this vein, GLOVIS also is active in its industry associations related to rail operations, trucking and auto manufacturing. These associations include organizations such as Automotive Industry Logistics Steering Committee and Automotive Industry Action Group.
Working closely with its peers is important because for larger issues, "GLOVIS is not big enough to change the industry," Clift explains. "We are about 8 percent of the finished vehicle market, so for industry issues, we team up with other big guys to drive the industry in the right direction." ­­­