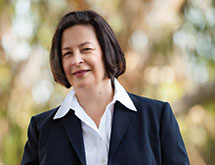 Supply chain industry consultant Gina Del Vecchio has spent the past 20 years of her career diversifying her knowledge of supply chains while working for service providers and manufacturers in publicly held and privately owned companies. "Over the past five years, everything has changed," she says of supply chains. "Customers are looking to access the product and have it delivered in whatever manner they want to have it delivered."
Del Vecchio began her career with Fritz Cos. Inc., a privately held logistics service provider based in San Francisco that was later acquired by UPS. She later joined the Gymboree Corp., a publicly held chain of specialty retail stores geared towards children, to get a further understanding of how a supply chain operated in a company that made products. "I decided I wanted to deepen my understanding of the total product supply chain and work with a company that developed and manufactured products," Del Vecchio says. 
Most recently, Del Vecchio led supply chain strategy at Ariat International, an equestrian footwear company, as vice president of supply chain. "A recruiter contacted me about Ariat and it was a fantastic opportunity to take over a total supply chain and be in a larger enterprise," she notes. 
Over a period of 10 years, Del Vecchio held various positions in private companies, including CEO, CFO and COO. When she decided to join Gymboree, Del Vecchio started as the transportation manager – a position she hadn't held for 15 years – but took it because she wanted a greater understanding of how public companies operated. "I wanted to understand how things worked in a public company, such as sustainability issues and social responsibility, and how these big players relate to those topics," Del Vecchio explains. 
Achieving Success
A great supply chain has the ability to react to consumer demand with flexibility, healthy redundancies and backup plans, Del Vecchio explains. "It's not just about having backups for top manufacturers, but your strategic materials and everything that goes into that product, as well as the logistics and distribution experience," she adds.
The way to focus on building a great supply chain comes from starting with the delivery to the customer and working backwards, which is opposite of how most supply chains operate, Del Vecchio explains. When companies begin to adopt this new way of thinking, the supply chain can become more flexible and be designed to adapt to customers' behavior. 
"It is difficult when a supply chain infrastructure is built in one direction only, which is historically with partners in manufacturing, pushing product out to the customer," she says. Supply chain strategy needs to be considered in both directions. "Sales and marketing should be a key partner [to focus on] because it can give us the most information about demand and the customer, so that the supply chain can truly align supply to demand." 
Customer Demands
A major change in the supply chain has been the switch from focusing on manufacturer needs to consumer demands. "What has changed is that we know a lot more about consumer demands and buying patterns from the analytics we can get through e-commerce, the voice of the consumer and social media," Del Vecchio says. 
Customers today are smart about what they want and focus on brands that are transparent, and dedicated to absolute integrity in a product and brand value. The ideal business to consumers today is one that ensures its customers are elated with the product, but one that also enriches the community. "This will become increasingly important," Del Vecchio attests. "People are becoming more environmentally focused and socially aware [so] that it will emerge more and more. It's so important to have an open dialogue about the brand and products." 
A big emphasis in supply chain and also Del Vecchio's focus while working toward her MBA is social accountability. "I spent many years importing products from around the globe with concerns and an interest in sustainability," she says. "A big part of my work is eco-awareness and cradle-to-cradle methodology. That is products that are created to end up biodegrading or doing something other than sitting in a landfill." 
Technology Advancements
Access to data is imperative to the supply chain operation in order to make the right decisions. Enterprise systems collect all types of granular data, which are huge data sets that only experienced data miners and analysts can decode. Employees today, however, want technology that is user-friendly. "They want access to technology that looks and feels easy, that is intuitive and easy to use," Del Vecchio says.
Centric Software, a product lifecycle management and sourcing software company based in Los Gatos, Calif., is very focused on customer usability. "The company sits down with their customer and asks how they want to use the system and they are able to deliver the product that can be used quickly versus six months of training and a stabilization period," Del Vecchio says. 
Future Demands
Supply chains will become more focused on customer delivery in the future, Del Vecchio says. The whole customer experience from understanding the product to delivery is vital. "They should be delighted with the sequence of events," she adds. "You have to go back through the supply chain to ensure you are producing products that are high-quality and do the things you say it will do."
Understanding customer behavior will allow companies to create a flexible supply chain model to ensure customer satisfaction. Brand is becoming king in the supply chain, Del Vecchio says, and customers will seek out getting it anyway they can. 
"The most successful supply chain is the one that delivers maximum customer satisfaction," she explains. "Delivering a great product – a the right time and place – achieves maximum customer satisfaction, as well as maximizes brand strength and profitability."