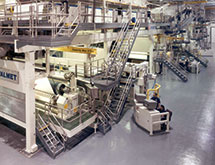 Appvion Inc. has innovation in its bloodline. Founded 1907, as the Appleton Coated Paper Company, the company has been on the leading edge of developing and applying paper coating technologies. By 1935 the company had become the largest manufacturer of specialty papers in the world. In the 1954, Appvion helped NCR Corporation introduce the first carbonless paper, a product that revolutionized the forms industry by eliminating the mess and bother of carbon interleaves. The company has sold more than 14 million tons of the product since it was introduced.
In the late 1960s Appvion again partnered with NCR to produce a specialty coated paper that uses heat rather than pressure, like in carbonless, to create on image. NASA was among the first users of this new thermal paper for its moon missions. Today Appvion is the largest North American producer of thermal paper products. 
More recently, Appvion scientists have continued to develop and refine their pioneering knowledge of microencapsulation technology and explore opportunities for microencapsulation to extend to applications beyond carbonless paper. Those efforts have enabled Appvion to develop specific and proprietary product solutions for the consumer products industry, which led to the creation of Appvion's Encapsys® division, an innovative and rapidly growing specialty chemical operation.
Innovation continues to be the company's guiding principle here in the 21st century, according to Executive Director of Supply Chain Matthew Stites. Through a careful reexamination of its entire operations, Appvion has undergone a significant transformation over the last few years that Stites says has built the company into a stronger, leaner organization with the support of some major long-term partnerships. 
Known as Appleton Papers Inc. since 1978, the Wisconsin-based company underwent a rebranding in 2013, emerging as Appvion Inc. Stites says the company's new name is derived from "applied innovation," and better reflects the company's heritage, approach to doing business and adaptive mindset. 
Making a Change
Appvion's supply chain operations are very different today from what they were in 2008, when Stites joined the company from the automotive industry. He says the company was initially focused on primarily cost-saving initiatives. 
With Stites helping to guide the process, Appvion began to overhaul its operations with an eye toward more market-driven change. By forming more strategic alliances with partners whose cultures are aligned with its own, Appvion has been able to create greater efficiencies and more effective strategies than through its previous approach of simply cutting costs. 
"Since 2008, we've made the transformation from a typical sourcing group to one that is much more strategic," Stites explains. 
Fundamental changes included re-examining the supply chain team's charter and objectives; expanding and restructuring the team to add strength and expertise; introducing or expanding system management tools such as a contract management database, vendor-managed inventory programs, and optimized payables systems.  
New Strategies
For example, Appvion formed a unique strategic alliance with pulp and paper manufacturer Domtar in 2012.  "We basically took the market insight and started to have some very open discussions with them on how using an integrated view of the supply chain offered exceptional value to both organizations that could not be realize through a typical supplier customer relationship," Stites says. 
By forming a new partnership with Domtar, Appvion was able to secure reliable access to competitively-priced, high-quality base paper for all its paper segments and reduce the company's exposure to unpredictable market costs for pulp and waste paper. As a result, Appvion closed down the papermaking operations at its plant in Ohio and outsourced the paper production to Domtar. Domtar gained significant and predictable volume for its base paper business driven by demand in Appvion's growing global thermal paper business.
Stites says the supply agreement with Domtar produced significant operating efficiencies for Appvion and annual cost savings of $25 to $30 million. 
   Stites says Appvion's success has been based on using applied chemistry to increase the performance of paper. "More recently, our expertise in microencapsulation has enabled us to partner with companies like Procter & Gamble to enhance the performance and value of a growing range of consumer and industrial products," he states.
  Appvion's heritage has our deep roots in the paper industry and the company's success has been built on its ability to deliver valuable innovation to customers. While producing thermal, carbonless, and other specialty coated papers will continue to be an important part of the Appvion's product offering, the company's entry into diverse new markets makes it clear that paper won't be the only component of the company's future success.