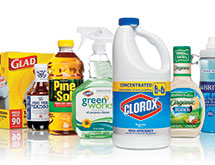 Having celebrated its 100th anniversary in 2013, The Clorox Company needs little introduction. Chances are, you have some of their products in your home or office right now. Today, it is a $5.6 billion publicly traded company with approximately 8,200 employees worldwide. It has a diverse portfolio of consumer products brands in a number of market segments.
"Today, about 80 percent of our sales come from the U.S., but International is a rapidly growing business segment," Director of Supply Chain Strategy Mark Hersh says. "We have 39 manufacturing facilities and serve more than 100 markets around the world."
Reaching the Market
Clorox products target a number of consumer product categories, including cleaning, laundry, water filtration, bags and wraps, food, litter, charcoal, natural personal care, naturally derived cleaning, healthcare and international products. Boasting a wide array of brands, the Clorox portfolio includes its namesake bleach and cleaning products; Tilex, Formula 409 and Pine Sol cleaners; Liquid Plumr clog removers; Brita water-filtration products, Glad bags, wraps and containers; Hidden Valley, K.C. Masterpiece dressings and sauces; Fresh Step and Scoop Away cat litter; Kingsford charcoal; and Burt's Bees natural personal care products. More than 80 percent of the company's products are either No. 1 or No. 2 in their categories. 
"Many of the products in our company's portfolio joined the Clorox family through acquisition, including Glad bags and wraps, Fresh Step cat litter and Burt's Bees natural personal care products," Hersh explains.
In the United States, Clorox serves multiple retailers across many channels. It supplies them through several different route-to-market models, including multi-product distribution centers, distributors or direct from manufacturing plants. Outside of the United States, the company serves retailers through its plant warehouses or by use of distributors. 
Clorox understands that retailers want offerings that meet the needs of their targeted shoppers. Retailers are changing store formats and continuing to adapt to an omni-channel world, and they are demanding lower working capital and increased differentiation in products and services and opportunities to improve their margins and profitability.
At the same time, consumers are looking for product and service attributes that they value. They are value conscious and have access to real-time data that influences their purchase decisions. Understanding cultural and shopping pattern diversification is critical for consumer product companies. 
"The marketplace will rapidly evolve over the next 10 years and supply chain capabilities must adapt quickly to meet the changing needs," Hersh says. "There are some major trends that will continue to accelerate. These include omni-channel retailing, channel innovation, social media, big data, retailer and consumer fragmentation, technology advancement and increased product and service differentiation and customization for our retailers, to name a few."      
Key Ingredients
In this evolving environment, there are several key elements to Clorox's supply chain management efforts that help everything flow as efficiently as possible from end to end. One key element employs a value chain segmentation (VCS) approach to design its globally integrated, end-to-end supply chains, from Clorox's suppliers through to the retailers' shelves. 
"Through this process we tailor the supply chain design and capabilities to match the needs of both the product and market," Hersh says. "This approach provides a blueprint of the capabilities for four value chain types that span the agility continuum from responsiveness to efficiency." 
VCS is about balancing how Clorox positions products and markets for growth while enhancing profitability, reducing costs and improving service. To be successful, the company must embrace what it calls "good complexity," and design for it and efficiently deliver it. 
"VCS allows us to do that by having tailored supply chains with capabilities matched with product, market and company strategy requirements," Hersh says.
Another key element is development of top managers who will be future leaders in the Clorox supply chain organization. The company needs its leaders to have strong understanding of key industry trends, understand the marketplace and be able to apply this external view to their daily work and thought processes. 
"This is done through our annual Supply Chain Strategy & Leadership Forum [SLF], which was developed in partnership with Georgia Tech," Hersh explains. "The learning process has four key elements: strategic thinking, operational excellence, leadership development and applied knowledge."
Upon completion of this two-week program, Clorox's leaders can employ a holistic and cross-functional view of the end-to-end supply chain. They can use a supply chain leadership mindset and be more collaborative with cross-functional partners in areas such as sales, marketing, finance, R&D, HR and IT. It also helps them to understand supply chain imperatives from a strategic and competitive standpoint, not just tactical. They also gain a conceptual understanding of all relevant issues and can drive needed supply chain transformations in their organizations.
The third element is Clorox's Product Supply Organization (PSO) Operating Model, which is its operating design and structure. The scope of the supply chain organization is an integrated end-to-end approach that includes planning, supply chain strategy, global strategic sourcing, manufacturing, logistics, operational and technical services, project management and customer support. All of these functions report to a senior vice president – chief product supply officer . Clorox also employs a role it calls "integrator," a person who reports to both PSO and business unit leaders. 
"These individuals help translate the needs of the business for supply chain and also influence business unit strategies based on supply chain capabilities," Hersh says. "By taking an end-to-end design approach for the PSO operating model and combining all of the supply functions under one leader, we are very effective at driving transformational improvement and delivering the needs of the business."
In the years ahead, Clorox will continue to build strong ties to retailers and vendors. It employs an ongoing Voice of the Customer (VOC) process to understand retailer priorities, and it has built a robust supplier relationship management approach to build strong collaborative partnerships with key vendors. 
The company will also invest in improving end-to-end supply chain performance. It will continue to focus on being more demand-driven while implementing lean across the entire Clorox enterprise. The company also plans to enhance its ability to integrate acquisitions and new product adjacencies. Clorox will also look to drive e-commerce growth, enhance enterprise data management, look for consumer-data-driven insights and data management, and improve key business processes to improve working capital.
"We're developing a plan to meet the needs of the future," Hersh says. "We're focused on delivering the company's strategy with supply chain capabilities that enable its product, market and strategic objectives."