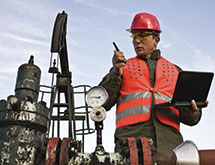 Calfrac Well Services understands the stakes in today's unconventional oil and natural gas marketplace. Wells are expensive, commodity prices can be volatile and service efficiency is critical. As a result, industry participants must minimize risks and maximize results, gaining the highest possible well productivity.
Calfrac Well Services shares those goals, describing itself as a customer-centric organization. Everything the company does is driven by a commitment to help customers succeed, the company says.
Calfrac Well Services understands far more than just pressure-pumping equipment, the company says. Instead, it has a deep understanding of oil and natural gas reservoirs, including the complex shale and tight sand/siltstone intervals currently being pursued. Additionally, the company continually works to develop the right fracturing programs, integrated with evolving in-house chemistries, to deliver the optimum well-completion results on which its clients rely, the company says.
Customer-Centric
Calfrac Well Services strives to be customer-centric in a variety of ways, including: 
+ Custom-designing its own equipment to deliver high performance and reliability under the harshest conditions;
+ Maintaining an in-house lab that continually develops a lineup of fracturing fluids and innovative chemistries, which are designed specifically for unconventional oil and natural gas formations;
+ Overseeing a technology and training center in Calgary that is focused on providing quality control for all products and tailor-made chemical solutions. 
+ Maintaining exclusive rights to patented technologies and direct control over a chemical supply chain as well as the other key commodities used in well completions;
+ Aiming product development at creating greener and safer chemistries.
Calfrac Well Services has survived more than one economic cycle and intends to succeed over the long-term by practicing conservative, disciplined financial management, the company says.  
Keys to Success
The company attributes its success to several key principles that form its vision and provide the framework to execute its mission. They are:
Service first – provide the highest degree of expertise, innovation and service. Calfrac Well Services continually strives for operational excellence under this principle. From technology investments to customer care to employee achievement, the company maintains its leadership position by delivering services with the highest possible degree of quality, efficiency, safety and integrity.
Technologies that work in the field – the quality of Calfrac's assets and chemistry is fundamental to the viability of a long-life, specialized oilfield service company that serves a global market. Hydraulic fracturing operations are constantly improving through advances in technology, which are intended to translate into capital efficiencies and enhanced well productivity and reserves for Calfrac Well Services' customers, the company says.
People make the difference – the foundation of Calfrac Well Services' success is its people. The company believes in continually strengthening its team of employees. Among the challenges facing the oilfield services sector is maintaining and growing a reliable, qualified and dedicated workforce. Employee development is a key part of its efforts to strengthen the organization.
 Service line expansion – Calfrac Well Services has made major investments in specially designed fracturing, coiled tubing, cementing and other well-servicing solutions. Each of these service lines offers opportunities to add value through innovative technologies and equipment designs that improve operating efficiency, reduce environmental impact, lower the costs of bringing new reserves on-stream for our clients, the company says.
Geographical expansion – Calfrac Well Services believes that through its presence in the world's top-four fracturing markets – Canada, the United States, Russia and Mexico – the company is strongly positioned to serve customers in their major operating areas. Established operating bases in the top fracturing markets as well as Argentina and Colombia form a springboard for future growth by leveraging the operating advantages of an on-site presence, dedicated equipment, the experience of locally based people, technological advantages and the company's established customer base.
 Field-proven technologies and specialty equipment – With an ever-expanding fleet of modern, well-maintained and specially designed fracturing, well- servicing and cementing units, Calfrac Well Services is able to respond quickly to customer demand and new opportunities, the company says.