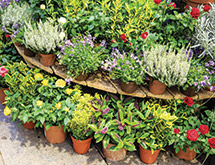 Some might see gardening as a simple pastime. Retirees are often known to spend a lot of time gardening in their backyards, cultivating tomatoes or pretty flowerbeds. But even if it is just a hobby for some, all the people who are interested in gardening combine to make it quite a big business. In fact, more than 70 percent of U.S. households spend time and money taking care of their garden or lawn, which gives the entire market a value of more than $433.5 billion, according to the National Gardening Association. That shows the market is much more than just tomatoes and retirees. 
L&L Nursery Supply Inc. understands the market's enormous value, in large part because it has seen so many of the industry's ups and downs. Established in 1953, L&L started by developing redwood containers for garden centers in Southern California, but since then has grown to become the West Coast's leading distributor of home and garden products. It is the company's knowledge of the market and dedication to service that helps L&L grow its customers' business. 
From its home base in San Bernardino, Calif., L&L operates the company's largest facility, which houses its corporate offices, as well as the southwestern sales office and a distribution warehouse serving Arizona, Nevada, New Mexico and California. From a sales office in Fremont, Calif., L&L serves the Northern California and Northern Nevada markets. The company's third location is in Fife, Wash., which is a distribution center and sales office that serves Alaska, Colorado, Idaho, Montana, Oregon, Utah, Washington and Wyoming.  
"With three locations servicing the Western United States, L&L maintains the highest-quality standards of service and products to our valued customers," the company says. 
The company stresses that its dedication to service is the result of its talented employees. L&L showed its gratitude to them in April 2014, when the company became 100 percent owned by its employees, instead of partly owned by employees and partly by a trust. 
"The result of this change is each and every employee has a vested interested in meeting and exceeding our customer and vendor partners' expectations," says Tom Medhurst, president and CEO. 
Close Relationships
L&L may be dedicated to only the West Coast, but it is providing product to customers in a wide range of climates from the North to the South, and that requires extensive knowledge of individual market needs, as well as specialized service. The company developed its customer service department to not only provide immediate response to customers' orders, but its employees also have the training and knowledge to answer questions and help customers with various issues. 
The company also is dedicated to meeting customers' needs by filling their orders quickly and efficiently. As a full-line wholesale distributor, L&L has a combined warehouse capacity of more than 240,000 square feet, providing it with enough room to maintain an enormous inventory of supplies. 
L&L is focused on maintaining close relationships with its customers and vendors, and although its service is on display all year long in various ways, the company pulls out all the stops and brings everyone together for its annual L&L Marketplace Retailer Trade Show, which it holds in October. Last year the show had more than 300 vendor booths, and L&L invites its retailer customers to a resort for the West Coast's largest independent home and garden retailer show. 
This year's event is taking place at the Silver Legacy Casino in Reno, Nev., and is expected to be bigger than last year's event, which featured a performance by comedian Larry the Cable Guy, networking breakfasts and lunches, a bowling party and the extensive exhibition of vendor products. 
"Every one of our employee owners at L&L are dedicated to bringing our retailers and vendors the best possible Retailer Show, just as we are committed to providing our customers the best quality and service everyday," says Bart Fornfeist, vice president of sales and marketing.