United Beverages of North Carolina LLC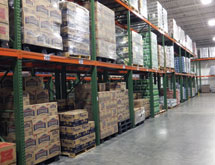 A focus on internal investment and product growth is helping United Beverages of North Carolina LLC do what the company says it does best. "We're very good at serving our customers," says Bob Cooley, vice president of operations for the Hickory, N.C.-based beverage distributor. "We take care of our vendors and suppliers, protect and promote our brands and support our customers."
The company's customers have one main expectation, which it works closely with its supply chain to achieve. "Our customers expect the correct quantities of the right items, in the proper place and on time, with an appropriate shelf life so they can best serve their customers," he adds.
The company, formed in 2004 by the merger of four distributors serving 17 counties in the north central portion of North Carolina, offers more than 750 SKUs of alcoholic and non-alcoholic beverages to supermarkets, convenience stores, restaurants and bars. United Beverages of North Carolina's major brands include products produced by Miller Coors, Crown Imports, Yuengling, Pabst, Guinness and Heineken brewing companies, as well as a number of specialty and craft brews. The company distributed a total of 4.8 million cases of beverages in 2012, Cooley notes.
United Beverages of North Carolina operates 150,000 combined square feet of warehouse and distribution space in Hickory and Salisbury, N.C., where it owns a branch office.
Improving Efficiency
Growth through acquisition of new brands is a major part of United Beverages of North Carolina's business strategy. "We're growing our product portfolio in order to reach a broader audience," Cooley says.
In 2012, the company acquired distributorship of Cheerwine Soda, a regional cherry-flavored soft drink produced in Salisbury. Along with Cheerwine, United Beverages of North Carolina also gained distribution rights for several national soft drink brands including RC, 7-Up, Hawaiian Punch, Snapple and Canada Dry.
United Beverages of North Carolina invested $620,000 in equipment and fleet upgrades in 2012 to accommodate the new products and increase the company's overall efficiency. Roughly half of the company's capital expenditures went toward heavy equipment and the purchasing of several Freightliner tractor trucks to supplement its total fleet of 50, primarily International, trucks. The company owns all its own trucks, vehicles and equipment, Cooley notes.
Heavy equipment purchases include Toyota dual forklifts, racking systems and Cousins pallet-wrapping machines. The dual forklifts will allow for faster loading and unloading of trucks, while the racking systems will enable the company to maximize the available space  in both of its warehouses. "We're investing heavily in racking in order to accommodate small and large volume SKUs, and customizing our existing racking to meet larger total volume requirements," he adds.
The addition of new pallet wrapping systems gives the company greater capacity on load-outs. With these machines in place, warehouse personnel can move pallets more rapidly from picking and inspection stations to trucks.
Future investments likely will include facility expansion.  "We're working on a 20-year plan to address what we will need in physical space, and are considering options in both of our facilities for expansion as well as some temporary off-site solutions," Cooley says. "We're in an analysis phase now regarding capital investments."
Investing in the Future
Technology is another area United Beverages of North Carolina looks to invest in. Last year, the company added TourSolver, a logistics program that plans delivery routes based on factors such as miles traveled and delivery time. "What we're trying to do is minimize the miles we're traveling while maximizing the use of our equipment," Cooley says.
TourSolver helps the company get a better handle on its fuel expenses, which it also addressed in 2012 through the purchase of several fuel-efficient vehicles for sales and merchandising personnel within their fleet of 106 vans and small vehicles. The  company's fleets run approximately 60 percent diesel fuel and 40 percent regular gasoline, he adds.
United Beverages of North Carolina manages most of its supply chain functions through a mainframe system produced by Vermont Information Processing (VIP), a leading provider of software and hardware to the beverage industry. The system allows the company to track inventories and sales histories, generate forecasts, process customer orders and order products directly from bottlers and brewers.
As United Beverages of North Carolina delivers on a next-day basis, the VIP software's forecasting function is particularly critical, as many of the breweries the company works with require lead times that exceed two to four weeks. The company maintains a safety stock based on vendors' replenishment cycles while actively turning over its inventory on a regular basis, Cooley says.
Future technology investments could include the addition of a voice pick system. "We've made major strides in the last 24 months in terms of our approach to the supply chain that set us up well for future improvements," says Cooley, who joined the company in 2011. "My focus is on making sure we have the fundamentals in place first."
United Beverages of North Carolina's warehouse and other staff have been critical to helping Cooley meet his goal of evolving the company's operations. "Our people are committed to excellence and experienced in the industry," he adds. "Everyone here is an innovative thinker with a great work ethic."­­