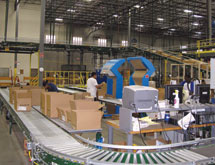 One of the largest wholesale distributors of business products in the United States has centralized its operations while maintaining a diverse product mix. United Stationers Inc. is continually honing its supply chain and logistics operations to support being a one-stop online marketplace for more than 100,000 items from 1,000 manufacturers. This broad product mix enables the company to serve multiple resale markets:
Office products
Office furniture
Technology supplies
Janitorial, foodservice and healthcare
Welding, industrial, oilfield and construction
The company's customer base includes more than 25,000 resellers nationwide including big-box retailers, office products dealers, computer products resellers, e-commerce merchants, drug store chains and industrial distributors. The Deerfield, Ill.-headquartered company has 72 distribution centers located in or near most major American cities, giving it next-day shipping capability.
United Stationers' success at serving diverse customers and markets is based in part on its supply chain operational strategy, says Stan Becraft, vice president of supply chain logistics. "United has always prided itself on sophisticated operations, but it has become even more so as we have entered additional markets and served more diverse customers."
Shared Strategies
Becraft joined United Stationers two years ago after working in a similar capacity for 18 years at Walmart to lead an effort to create a shared services structure to improve inbound flow and transportation. The company is focusing on four strategies to meet this goal, he says.
The first involves working with the inbound supply chain to better manage the flow of goods. "We have applied a more holistic model that looks at the total supply chain waste," Becroft adds. "We want a win-win scenario as we look to improve flow and drive waste and redundancy out of the mix."
The second strategy involves managing the company's truck fleet and distribution network. United Stationers has a total dedicated fleet of 550 trucks at its disposal. The company manages and owns its own distribution footprint.
United Stationers' third transportation strategy involves the development of last-mile delivery tools to get products from distribution centers directly to consumers. The fourth and last strategy concerns standardizing asset management and procurement policies across the company. These include fuel, purchases and contract management strategies.
"These are four foundational things that have a significant impact on our supply chain efficiency," Becraft adds.
Competitive Advantages
United Stationers' transportation strategies all reflect the company's ongoing effort to be competitive by leveraging its collective volume, technology, people and processes, Becraft says.
The supplier strategy in particular reflects United Stationers' corporate "War on Waste" (WOW) program, as the company is taking an active role to manage the internal flow of goods. The WOW program, which looks to create efficiencies throughout the company's operations, has saved the company millions of dollars over the last several years, Becraft says.
Creating a transportation shared services structure also reflects the company's strategy to "win from the middle." From a supply chain perspective, this means maintaining an effective supply chain structure in-between the hundreds of manufacturers and the thousands of resellers United Stationers serves.
The company does this in four ways:
Providing scale and services that enable a wide range of resellers to stay competitive;
Treating manufacturers as customers and working with them to provide wholesale services that add value to the products they sell;
Creating many new resellers and routes to market for its products and services such as the unified e-commerce site; and
Cross-selling its products across different channels.
Partnerships and internal control are crucial to the company's approach. "In the last five to 10 years, companies have decentralized a lot of their capabilities, but we're taking an opposite strategy," Becraft says. "We want to partner with others and manage our processes ourselves. Controlling our own destiny is very important to us."
'The Right Thing'
Although United Stationers' transportation strategies and "win from the middle" philosophy are important to its continued success, the company's most critical cog is its people, Becraft says. "The thing that drives us forward is our people and our culture," he says. "We have a very open and collaborative environment."
A large part of United Stationers' culture is based around charitable giving and volunteerism. Much of this is achieved through the United Stationers Charitable Foundation, which coordinates associates' donations of time, talent and "treasure," which can represent anything from financial contributions to food, clothing, and other necessities, the company says.
Causes supported by United Stationers include a range of local, national, and internal organizations. "We're really driven around our foundation and giving back to our communities, and the foundation is a big part of what we do," Becraft says. "We think giving back is the right thing to do."­