S&OP Innovation Summit preview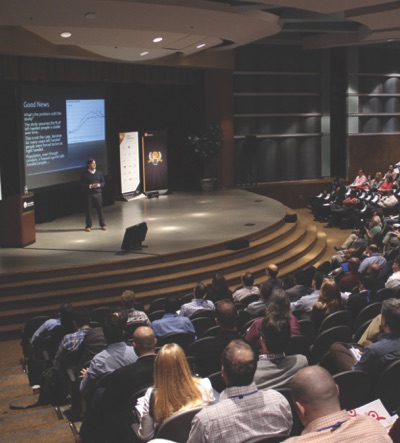 The next S&OP Innovation Summit will take place this September 22-23 at the Westin Copley Place in Boston.
A company with a mature S&OP processes will be more successful in executing growth programs, new product launches, market penetration, and pricing. It also helps improve understanding, communication, and collaboration between functions, creating a more agile, dynamic and less reactive supply chain.
There are numerous theories around what constitutes best S&OP practices, and it is constantly having to adapt to new technologies and techniques, but it is now on its way to becoming a standard practice. For those companies that have implemented S&OP to a high level of maturity, S&OP is now evolving into Integrated Business Planning (IBP).

IBP essentially looks to fulfill the same functions that S&OP does, but incorporates a variety of other elements across the supply chain, including financial modeling and project strategy. A successful IBP will involve the chief financial officer (CFO), whereas S&OP will not necessarily do so. The main difference is really just emphasis. The arguments for a shift from S&OP to IBP rest on the principle that in the traditional S&OP process, financials are considered, but are not typically a key driver for planning. IBP is not really a replacement for S&OP; it incorporates and expands S&OP through increased scope, outlook and planning term. They both look to satisfy demand, but IBP is more active in that it helps companies optimize business results through considering more factors over a longer term.
A recent survey conducted by JDA/SCMWorld found that companies that have made the move from S&OP towards IBP feel that it has been to their benefit, with 63 percent of the 1,000+ supply chain professionals questioned saying that they believe their company's IBP is effective and impactful, and offers them greater risk management and resiliency capabilities.
The survey also revealed a number of other benefits for companies that have implemented IBP. The study found that those organizations that claimed their IBP is effective and impactful are almost three times as likely to have real-time visibility to risk issues compared to those who lack an IBP process.
However, while the benefits are being realized for those companies who do use IBP, another survey conducted by Oliver Wight, the visionary behind IBP, also found that many are failing to align their IBP and S&OP initiatives with the financial piece of the puzzle, with 45 percent of S&OP professionals saying that they did not account for financial controls when pursuing an IBP initiative, and only 28 percent saying that those controls were fully aligned with overall financial objectives. Organizations that do not do this are not practicing IBP, they are still practicing S&OP. Such organizations are failing to allocate people to where they need to be, and lacking the necessary tools to operate their supply chain efficiently.
Speaking at the S&OP Innovation Summit in Las Vegas in January, Michelle Davis, Director of S&OP at Cisco, discussed the tech giant's journey from S&OP to IBP. She explained some of the other things the tech giant was looking at to enable the transformation, noting that, "you have to tie the decisions you're making to the financial impact, and then you have to run scenarios against it."
This is key. IBP is about looking forward, it's not about postmortems, it's about planning for the future and scenarios are essential for showing how successful the plan currently is so it can be adapted. They have put a center of excellence in place to ensure IBP was used effectively. When implemented successfully, IBP enables complete transparency of operations, making supply-chain risks far more easy to manage and mitigate against, and giving decision makers more in control of the business. IBP at its core is about aligning and synchronizing the company – aligning who does what and synchronizing when it is done. When this process is done right, each operational function, including finance, enables informed decision-making for company executives and their strategic planning for the organization at large.
Companies that do not have at least some degree of S&OP, even if it's at the most basic level, will invariably struggle to compete against companies that have effective S&OP/IBP processes. The next S&OP Innovation Summit will take place this September 22-23 at the Westin Copley Place in Boston, and will see more than 25 speakers from industry leading companies take to the stage, offering their insights around how to best establish a fully mature S&OP process so as to deal with this problem. Among the speakers will be Ravi Patwardhan, partner at Westernacher, who will discuss how to integrate analytics into your S&OP process to allow increased visibility within your supply chain to help enable IBP, along with a number of other industry experts.