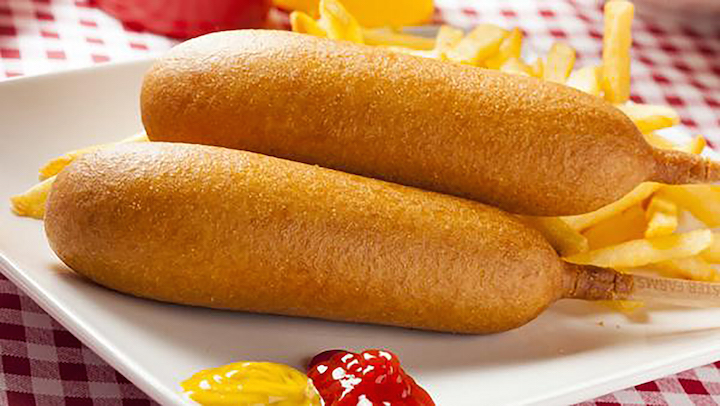 Monogram Foods plans to continue its growth by not only implementing new technology but also by fostering its customer and employee relationships.
By Bianca Herron
Monogram Foods is a family, and a growing one at that, according to Chief Procurement Officer Jeff Modica. Founded in 2004, Monogram Foods is a manufacturer of value-added meats, frozen comfort foods and appetizers. The Memphis, Tenn.-based company operates eight plants across the country in Tennessee, Indiana, Virginia, Minnesota, Texas, Iowa, Wisconsin and Massachusetts.
"Our products include beef jerky, meat snacks, frozen appetizers, sandwiches, corn dogs, pre-cooked bacon, smoked sausage and pet treats," Modica says. "Our annual average compound revenue growth has been over 40 percent for the last five years. Our growth has come organically, and a lot has been from acquisitions. From the acquisition standpoint, last year we acquired a company in Boston called Progressive Gourmet, which brought with it another set of suppliers and service providers."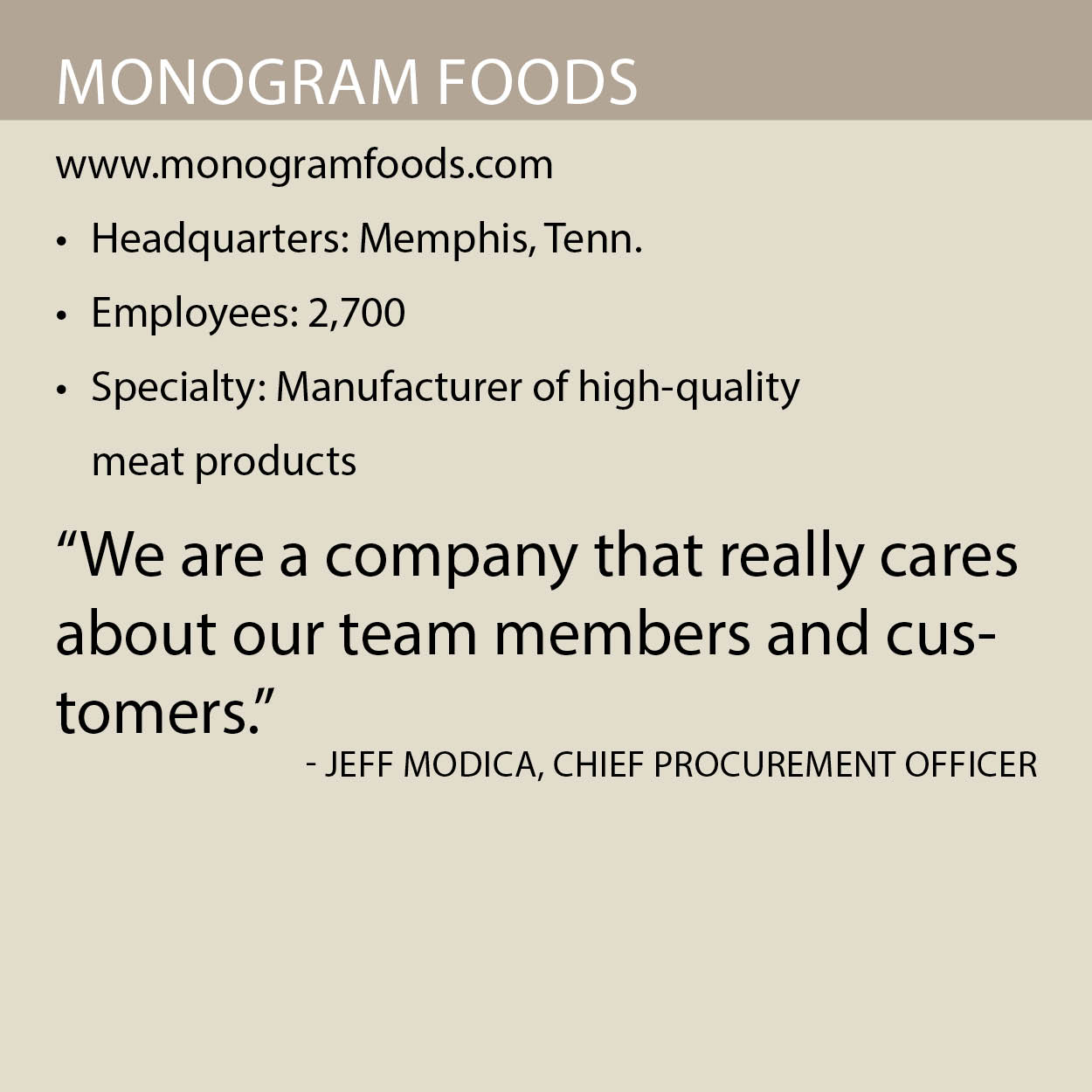 Modica says the key for Monogram is to integrate its supply chain processes and operations, which is why he's coined a new mantra: "Simplify, streamline and leverage."
"We are trying to simplify our supply chain and work smarter, not harder," he explains. "We also want to streamline our processes and leverage our supplier portfolio across all eight of our plants. For example, if we have 14 different suppliers for one type of product, we want to limit that down to three or less and have those suppliers service all of our plants."
This requires Monogram to seek out suppliers that have the breadth and depth to service the entire company. "That's where the leveraging and streamlining comes into play," Modica says. "So it really entails identifying and qualifying suppliers that can meet the demand of our company growing over 40 percent a year, which not every supplier can do."
For the past eight years, Monogram Foods has been named to Inc. magazine's 5000 "Fastest Growing Private Companies" list. That's why it is important that the company ensures its suppliers are qualified, because not every potential vendor will meet its requirements, Modica notes.
"That could be from a capability or capacity standpoint, or they do not have the ability to service our account in a timely manner," he says. "In my current position, I am responsible for all procurement, logistics, and warehouse and demand planning. So I've got an end-to-end supply chain, which is why we are trying to get the right employees on our team to support the growth. I also consider our suppliers an integral part of our team. Without a good, strong supplier network, we are not going to be able to meet our goals and objectives."
Inside the Matrix
Monogram Foods has 2,700 employees, 100 of whom are based at its headquarters in Memphis. "We have hired several people over the last couple of years, a number of which are based in Memphis, or what we call the Monogram Foods Support Center," Modica says. "We don't look at it as a corporate office, but as a resource team to support our plants in the field. So the team that I've hired has really been in the procurement and warehousing and logistics areas. I've added a couple of sourcing directors and managers, as well as warehouse and distribution managers. We also have hired demand-planning managers so that we can do a better job of forecasting our demand.
"That will help our supply chain network support the production plants better," Modica continues. "So we have to have the right people. That means we need people with the right skillset, the right experience and the right attitude. They also need to be a team player and part of the solution to support our growth. That's what we are really looking for people to join our growth at Monogram Foods."
Monogram monitors the procurement employee's area of expertise and experience from the day he or she is hired. "As we hire someone in we put them in what we call the 'matrix,'" Modica says. "The matrix houses all of the various categories we buy products in. So in each employee's profile, we note what categories they have experience in. We do that as part of our annual employee performance review and we also use it for growth opportunities and to build bench strength.
"For example, we may have an employee who has always bought proteins and meats, but has never bought vegetables," he adds. "So for a career-enhancing opportunity, we may assign them to the category of vegetables for a couple of years to give them experience. On the other hand, you may hire someone who has experience but wants to broaden it. So my goal is to develop a best-in-class procurement and logistics professional team that executes and supports Monogram Foods' fast growth strategy in a cost effective and efficient manner."
In addition, a growing company also needs enhanced technologies, Modica says. "As we have grown we have outgrown some of our technology," he says. "For example, although we are only 12 years old, we are looking into new ERP software because we have outgrown the one we have. We're looking to install a new system in 2018.
"We are excited about all that we have done and will do," he continues. "That's why I took this opportunity two years ago. I wanted to be a part of something that was growing and exciting. I come into work every day and I have challenges. That's typically surrounded around how we are going to keep up with what we are doing. Although there are still problems, and sometimes you may go home frustrated, it's a fun strategy as opposed to working for a company that is declining or not doing well."
Close Collaboration
Modica says Monogram Foods' culture and its people are the most important parts of the company. "We are a company that really cares about our team members and customers," he explains. "We have a family environment, are very entrepreneurial and focused. So as a growing company we know what's going on with our members. I know it sounds like lip service, but we really value work/life balance, which is important to all of us."
Modica adds that the culture at Monogram is refreshing. "I came from a company that was going backwards and declining in revenue every year," he explains. "The environment of working for a company that has over 40 percent growth every year is exciting. That is why people get excited about their jobs and being a part of the Monogram family. I think that's really important for them to not only be a part of this family, but also feel that."
Monogram wants its customers to feel like part of the family, too. "We consider our relationships with them as partners with 'glass pockets,'" Modica says. "We want them to understand transparency, what we're doing for them and how we price our products. So if we hire the right people and have the right suppliers supporting us, we can grow profitably."
One way Modica communicates Monogram's goals and strategies to suppliers is through the Preferred Supplier Conference. "For the past 15 years, I've held an annual supplier conference for my suppliers with all my previous employers," he explains. "For the conference, we invite 30 to 40 of our top suppliers for a two-day session in Memphis and talk to them about our growth strategy. We show them, very specifically, where we are going and what categories we are getting into and ask for their support.
"My philosophy is that if we want a supplier to be a true partner, they have to understand what we are trying to do as a company," he continues. "So we have to share our strategies and be transparent. If we tell them what our expectations are as a company and they want to sign up and be a supplier or employee with us, then they know what they're signing up for. We have a much higher chance of success by doing that."
Ultimately, Modica says he is most proud of seeing the company's growth, and the success of the people who have fueled it. "Right now we're doing performance reviews, and when I see growth in our employees that really excites me because I know they are successful and happy at what they do," he says. "When I see growth in the company, then I know that we're generating the return for our shareholders and they are happy. So I'm most proud of the team that we are starting to put together."