ValuePoint Solutions understands the importance of building relationships with customers to meet their needs and expectations.
By Bianca Herron
ValuePoint Solutions was founded to address a market need for an independent indirect material service provider not owned or affiliated with a manufacturer or distributor of the goods being managed. Nearly 20 years later, the Saginaw, Mich.-based company demonstrates the capabilities of providing MRO/Indirect Material integrator services to a variety of industries that include manufacturing, education, municipalities, healthcare, etc.
"As an integrator we provide four primary indirect/MRO services that include storeroom [crib]/warehouse management, inventory management, procurement and consulting in these key areas," Business Development Manger Spence Webb says. "Our solutions range from complete all-inclusive offerings to individual services tailored to a client's needs."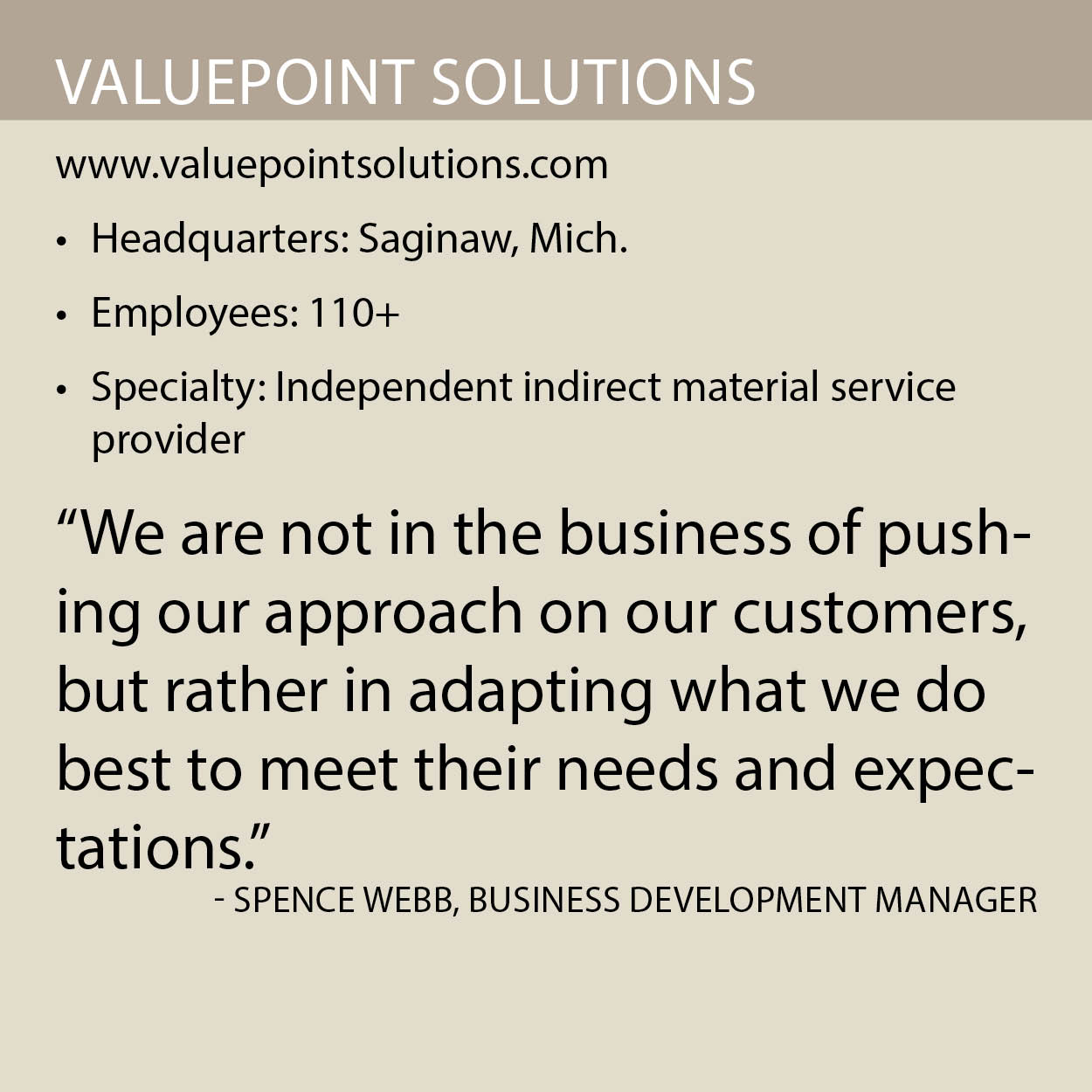 On average, ValuePoint Solutions handles more than $150 million in annual purchase value for its clients. "The core of our business over the years has been complete integrator solutions where ValuePoint has provided the labor and technology to manage our clients' indirect material programs all the way from their initial material requests through vendor payables," Webb explains. "This includes executing all procurement, inventory management, storeroom/warehouse and transactional functions. This has provided our customers with the ability to focus on their core competency while allowing us to do the same on their behalf."
Webb notes that customers hire the company for a few reasons. "They desire to have a focused professional to come in and improve their current situation," he says. "Those improvements may be in material availability, cleanliness and presentation, inventory reductions and cost improvements. More often than not, our customers are not just looking for an opportunity to outsource for the sake of headcount reductions. They do it because they are struggling with one or more of these aspects of performance within their indirect spend and see an opportunity to improve the support to their manufacturing operation, thereby improving production as well as saving money.
"Because indirect material is what we do – and only what we do – we are focused on getting the job done and are not constantly getting pulled away by the core needs that our customers have in a manufacturing environment when indirect material simply is not what they need to be focused on," Webb adds. "In addition, as an independent service provider, ValuePoint is not distracted by the desire to sell more products, increase rebates or improve margins. With a fixed fee pricing structure, our total focus is on the services provided. So our success is measured only by the performance metrics that surround inventory, delivery and cost savings."
ValuePoint achieves success in these areas by being very process and procedure oriented, Webb notes. "From there, you have to combine that focus with outstanding customer service," he says. "Our associates have no sales goals and, as a result, their success is also measured by the realities of our customer-focused key performance indicators as well as their reputation with the customers of our services."
Working Together
ValuePoint has more than 7,000 active distributor and manufacturer relationships in every indirect material category. These relationships range from simple procurement-only arrangements to service-oriented commodity management partnerships.
"The vast majority of our suppliers have been a part of ValuePoint's clients' support base since the launch of our first program in 1998," Webb says. "We understand the importance of working with a strong group of manufacturers and distributors dedicated to their commodities and personnel. Additionally, we are always looking for new partner opportunities and regularly add new distributors based on price opportunities or service improvements."
Webb says ValuePoint offers its supply base an opportunity to grow their businesses even further. "With the exception of the big national or international distribution firms, many vendors are smaller regional providers that began organically providing service to a local manufacturing plant, as an example," he says. "As a result, a relationship with ValuePoint can take them into other geographic regions or customer types they have never serviced and do not have the resources or reach to get to on their own."
In addition, ValuePoint's executive team has well over 120 years of combined experience in the materials solutions industry. "Our biggest investment is always in our people," Webb says. "Our success is measured first in our people followed by how we support them and the supply base we use. The last few years have seen significant investment in our internal approach to our associates. We have improved human resource systems, benefit options and while it's always a work in progress, our turnover is low and positive feedback from our customers on our staff members is at an all-time high." He adds that the company also has invested in "new software, vending solutions and a number of other areas either to improve or increase our services offerings, thereby reducing the cost of our programs."
Reacting To Needs
ValuePoint understands that its clients and potential new customers are focused on reducing costs and waste in their organizations. "Unlike many of our competitors, we are not out to force the use of our software to manage clients' indirect material if they have what they feel to be a capable ERP system of their own that we can expand the use and application of," Webb says. "On the flip side, if a client sees their ERP system as a roadblock to proper management of their indirect expense we can and will provide a cost-effective solution to fit their needs and desires."
Although the company operates all of its programs with the same focus on process, procedure and expectations, each is always tailored to a customer's needs, environment and culture. "We are not in the business of pushing our approach on our customers," Webb explains, "but rather in adapting what we do best to meet their needs and expectations. With indirect material there is no cookie-cutter approach that works for everyone."
Webb says ValuePoint's plan for growth "is simply to continue to provide the best possible service and support for our clients and continue to reach out to expand our client base, tell our story and provide factual documentation for discussion on how we could best help them save profit dollars. Beyond that customer focus, we are deeply involved in finding efficiencies within our own organization so that we can pass those improvements on to new clients by making our services even more financially advantageous."