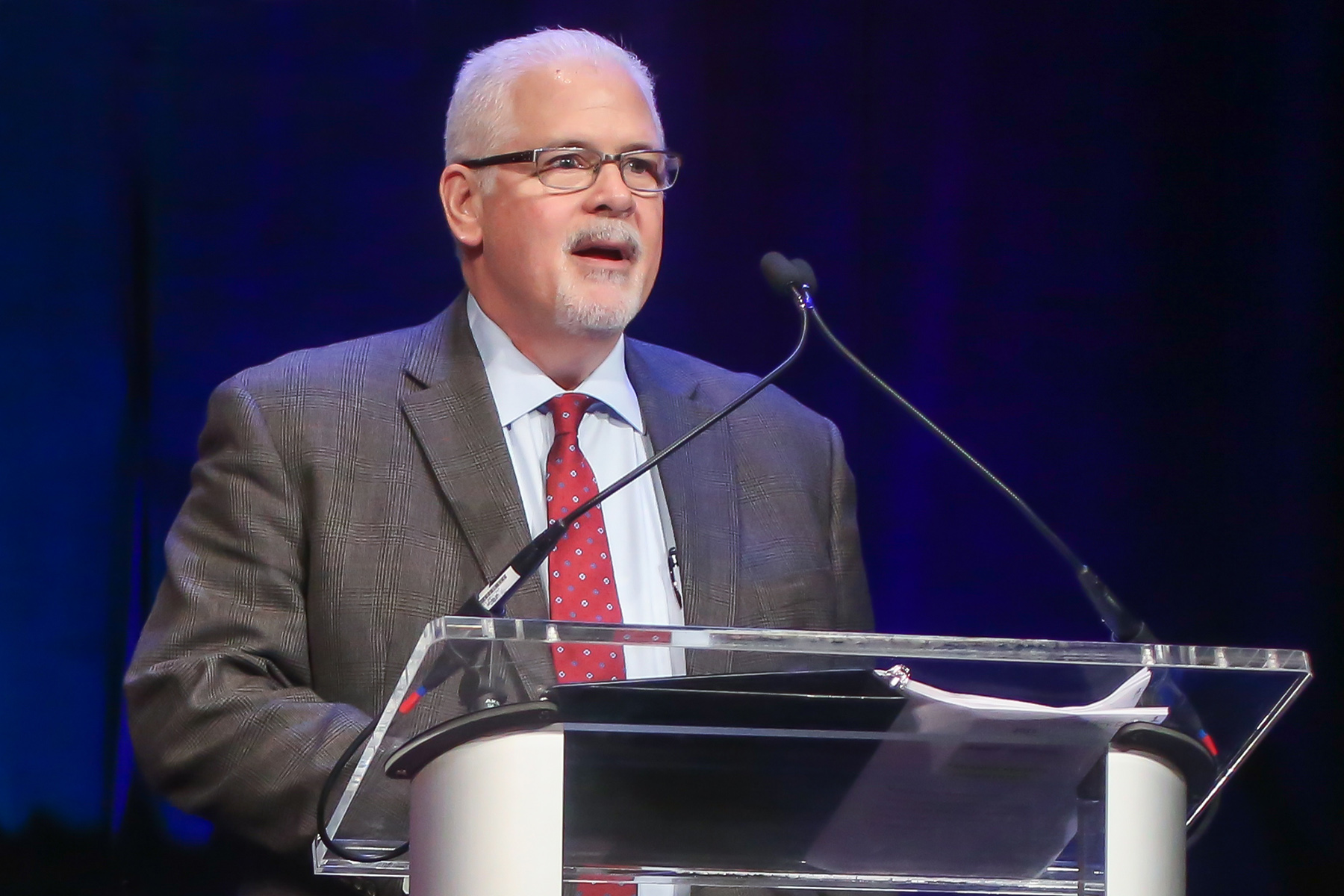 UniPro helps independent foodservice companies stay competitive.
By Alan Dorich
When one of UniPro Foodservice Inc.'s members has a distribution problem, it immediately sets out to find a solution. "We're more than just a purchasing co-op," declares Executive Vice President of Supply Chain John Burke (seen above). "We really listen to what the members want and reply and respond to their needs."
Based in Atlanta, UniPro is the largest foodservice distribution cooperative in the United States. The company, which started operation in 1958, has grown through mergers and acquisitions to have 428 members that serve more than 800,000 customers.
UniPro's members enjoy access to enhanced purchasing opportunities, products and services, including its Peachtree Freight Logistics company. "We do all of the contracting of all the carriers and brokers through the Atlanta office area," Burke says, noting that this is offered to members with sales in excess of $50 million.
"We have a common transportation management software that is deployed to all of these members," he says,
explaining UniPro is in the process of updating it. "We're currently going from a server-based system to a cloud-based system."
But UniPro's members with under $50 million in sales have not been left to fend for themselves. "We've come up with a new program called '3PFL,'" Burke reports. "[We] help them to manage their own freight and manage their own destiny."
These services have helped make UniPro's members more competitive with giants such as Sysco Corp. and US Foods Inc. "We're all the independents," Burke says. "The majority of our members are privately held, and a lot of them are second-, third- or fourth-generation family owned."
Big Initiatives
Burke joined UniPro in 2001 and has more than 30 years' experience in the foodservice industry. "I've always been in corporate logistics," he says, noting that his recent initiatives have included reinvesting in the company's IT development.
"It's more about growing member returns than investing in the organization," he says, adding that UniPro will implement a master data management system. "It's a big initiative for us that we started at the beginning of this year. That's going to allow us to be a lot more efficient with our members and our transactions."
The system also will allow UniPro to generate more complete data. "We've got a lot of analytical tools, but when we have missing fields, that's one of [our] biggest problems," he says.
Finding Drivers
Like many companies in the industry, UniPro's members are coping with driver staffing issues. "We were having a capacity issue [even before] the storms that we've been dealing with," Burke says, adding that the holiday season makes things tougher.
UniPro also is seeing freight rates escalate, due to fuel costs. "It also has to do with driver pay as well as how much trucks cost," Burke says.
Although UniPro's carriers can temporarily cope by paying drivers more, "Everybody's robbing drivers from each other and we haven't really done anything to attract a different demographic into the industry," he says, explaining that the age of drivers is also becoming an issue.
"Nobody has come up with what the answer is to get younger folks in the cabs," he admits. "The average age of a driver now is 53 years old."
The industry, he asserts, has to come up with a way to lure younger drivers in. However, "Truck driving in general is not perceived as a glamorous profession where you make a lot of money," he says. The hours away from home also keep people away. "We've got to be able to break that [barrier] somehow."
Industry Edge
UniPro is a member of multiple industry organizations, including the International Foodservice Distributors Association. "Our CEO is on their board, and I'm a past member of their planning committee that does their distribution solutions conference," Burke says.
The company also is a member of the Transportation and Logistics Council Inc., the Transportation Intermediaries Association, the National Private Truck Council and the Food Shippers of America. "Most of these organizations have been around for three or four decades," Burke says.
UniPro's participation in these organizations gives the company an edge in its market. "[They offer] different workshops on transportation law or contract law, or any kind of sales training for 3PLs," he says.
"I use those to educate my people," he continues, adding that UniPro associates attend their annual conferences. "There's also a lot of different workshops on HR and IT issues."
Ahead of the Game
Burke is proud of UniPro and how it has grown since he joined the company. "When I first came here, we were only able to show annual freight savings of $21 million," he recalls. "Our savings last year were in excess of $103 million.
"The amount of loads that we put through has kept in step with that," he says. "We put 192,000 loads through our system this year. We'll probably add 10,000 to 12,000 more."
He sees a strong future for UniPro, which may encounter more regulations like the mandatory use of electronic logging devices (ELDs), set to go into effect this December. "Most of the larger carriers are in compliance with that," Burke says, adding that some independents are trying to fight it.
However, a recent poll by UniPro showed that the majority of its carrier fleets are in compliance with it. "A lot of them made the switch and got on board with it," he says, although some smaller ones still have to add the devices to their vehicles.
The company also has been ahead of game when it comes to Food Safety Modernization Act training, Burke adds. Since it started a year ago, "We've been doing training sessions every month, getting our members prepared for that," he says.
Sidebar:
Leaders in Safety
UniPro Foodservice Inc. supports its members with Quality Assurance (QA) Specialists who continuously monitor the quality and safety of products in its brand portfolio. "Our QA department addresses all aspects of food safety and quality," it says.
These include ingredients, shelf life and handling, and recall notices. "We're leaders in the GS1 initiative to promote greater supply chain visibility, efficiency, safety and collaboration," UniPro says.