Perimeter Aviation is returning to form and intends to fly high once more
For the latest issue of Supply Chain World, we sat down with Timo Korpi, Perimeter Aviation's Director of Inventory Management and Purchasing, to talk through the story and processes behind a historic brand.
Timo began his career in the aviation industry "out on the ramp, slinging bags," as he puts it, in 1988 before slowly working his way up to managerial level.
Back then, he was working for Bearskin, a competing airline that was ultimately merged with Perimeter Aviation (Perimeter) by its parent company, Exchange Income Corporation (EIC), a Canadian investor in profitable, well-established yet niche North American companies.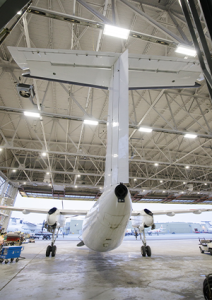 Although Bearskin is no longer, EIC continues to operate the Bearskin brand of service within the new amalgamated airline.
Before we get into the conversation, first a bit of history. Perimeter was initially established as Canada's first private Instrument Flight Rating (IFR) School in 1960 by William 'Bill' J. Wehrle. Four years later, the school acquired its first hangar at Winnipeg International Airport, enabling the company to begin servicing aircraft and, eventually, offer charter and maintenance services.
By 1976, Perimeter had purchased Transair's northern interior flight routes, encouraging significant growth. To keep up with its nascent expansion, employee numbers quadrupled overnight and Perimeter brought on several new kinds of aircraft.
Over the ensuing decades, the company built out a bigger portfolio of planes and hangars, increasing its services and range of operations. This included the introduction of a dedicated, full-time Aeromed air ambulance emergency evacuation service for communities in Manitoba.
Growth vision
That rate of growth has continued. Today, the company boasts more than 40 aircraft and Approved (Aircraft) Maintenance Organization (AMO) certification. Perimeter's service roster now includes: regular scheduled passenger services, Aeromed air ambulance services, and cargo shipping to more than 33 communities in Manitoba and Northern Ontario. On top of that, the company also has the ability to provide custom chartered flights to any destination in North America.
For Timo, though, the most rewarding part of the company's growth vision is that it's not afraid to make mistakes in the process. "It's really exciting to watch progression happen, especially when you've put a lot of work into a plan and it comes to fruition," he details. "Of course, there are always going to be ups and downs, particularly with a company this old.
"Throughout Perimeter's history, there have been some decisions that were backtracked after short periods of time," he goes on. "But that's the nice thing – working for a company that wasn't afraid to say, 'Yes, we made a mistake, and we need to change our approach.' In the end, it just makes the company that much stronger."
New goals
Another aspect of the business Timo is keen to champion is the technology fueling operational efficiency. "Technology is a huge part of the business," he notes, "and we're constantly evolving – different software, hardware, and so on. Our flight crews, for instance, have been using iPads for years, so now we're at the point where, by the end of next year, it's likely that all our team – from floor workers to those in the maintenance division – will have them.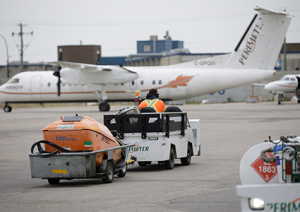 "It makes everything so much more efficient. You don't have to go back and forth to a desk or anything like that. There's also amazing things going on with software; there's so much that
has come around – partially because of the pandemic – that has now become a daily tool for us.
"It allows you to work with your team or external clients and have meetings online without having to travel. It makes a big difference when you can reach out to your team and still have a face-to-face conversation."
As it continues on that progression, Timo admits that there will still be an element of returning to pre-pandemic normality – but not for long. "Going forward, we're going to try and stabilize as we come back from Covid-19," he says. "But to be fair, it's already coming along very nicely.
"We've had some changes in our upper management and we're looking to focus on the goals of the new leadership, so there's exciting times ahead for the company," Timo concludes. "In five years' time, I'd love to see our current fleet standardization program get completed. Then it's a case of entering new markets with new destinations and more frequent flying, for instance.
"Personally, I've accepted a new role as Director of Excess Inventory with the goal of helping to move no-longer-acquired assets and inventory. I will also be working on the other side of the supply chain as a supplier. I can't wait to start the next phase of my career and contribute to the future success of the company!