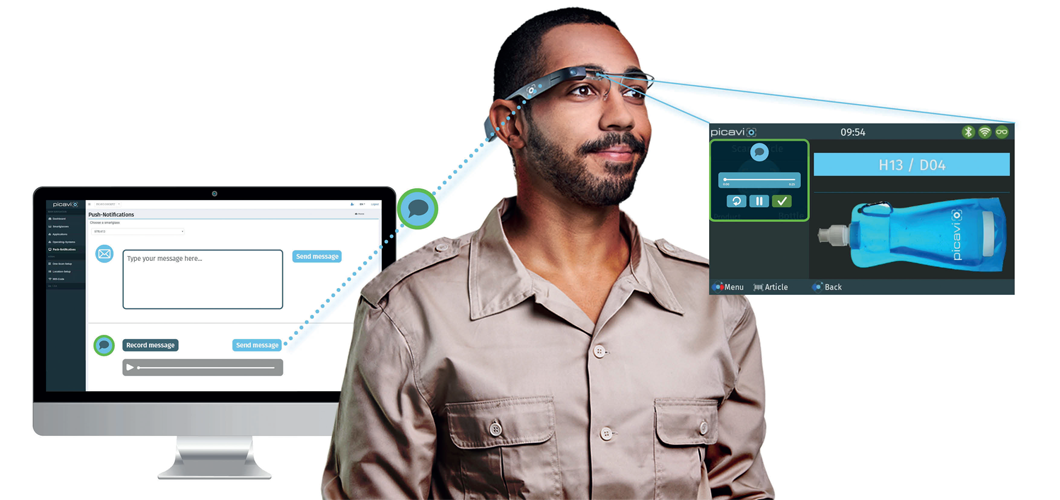 In June 2021, Manufacturing Today examined the importance of Pick-by-Vision. SaaS (software as a service) is widely accepted. On-premises software solutions are fading quickly. Vision-as-a-service (VaaS) is a new all-in-one package for users who want to combine agile growth using pick-by-vision with maximum investment security. Flexible leasing models give manufacturers and distributors unlimited access to an entire pick-by-vision ecosystem.
The VaaS subscription model contains all the software licenses and release upgrades needed, together with connection to a WMS or ERP system for a single fixed price. For the first time there is full pick-by-vision hardware as a turnkey solution from a single source.
Manufacturing and industrial CFOs appreciate the cash flow advantages in a pay-as-you-go model. The value of an 'as a service' offering must correlate to scalability. From a small single distribution center or kitting operation in a manufacturing plant there is often a POC (proof of concept) trial. Once adopted enterprise-wide, the ability to finance rapid growth becomes vastly more important. One distribution center quickly turns to a dozen; one automotive supplier kitting operation turns into many.
The VaaS solution makes sense because the wearables inventory can be expanded at any point in the lease period. Logistics firms get a hardware and software package that is always up-to-date. This service combines agility with a secure investment. Customers are already working successfully with vision-as-a-service products and are quickly breaking even. This product
category is particularly interesting for new users, as it lets them get up and running with pick-by-vision quickly, easily, and affordably.
Pick-by-Vision in action
Leifheit, one of the leading international brand manufacturers of household goods, is now introducing smart picking at additional sites. The company processes up to 8000 ordered items every day at its site in Zuzenhausen, in southwest Germany. With a total warehouse space of over 10,000 m2 and 1800 different storage units, order picking was a real challenge. With Picavi's pick-by-vision system, Leifheit has been able to increase productivity significantly.
According to Daniel Rademacher, Dispatch Manager at Leifheit: "We wanted a new picking method to not only increase performance, but also make life easier for our staff. Picavi pick-by-vision has helped us achieve these goals. Our employees love the new system and we have become much more effective as a result."
The high demands in dispatch and the constantly growing order volume meant that order picking performance needed a boost. Neither conventional MDT hand scanners nor pick-by-voice were up to the task. Leifheit required a future-ready solution that could both increase efficiency and provide ergonomic relief for staff.
In order to maintain performance while pick-by-vision was being introduced, pickers began using the system alternately for periods of a week. Thanks to the simple training, pick-by-vision was soon able to replace the previously used pick-by-voice technology without any drop in performance during the transition.
Leifheit now uses pick-by-vision to process all orders at its German logistics center. The next roll-out is already underway, with the company currently installing the new system at a site in the Czech Republic.

Carsten Funke is the CEO of Picavi USA. He is a global expert in the field of logistics processes using AR (augmented reality) concepts. Funke is a member of the Forbes Business Council.
https://picavi.com/en/company/